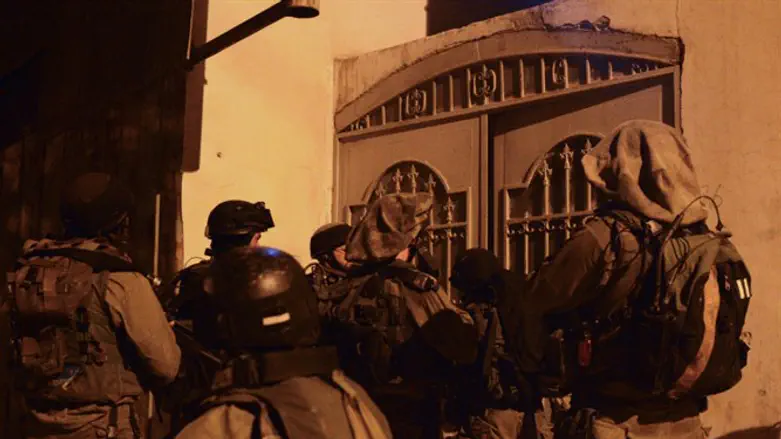 IDF night raid (illustrative)
Flash90
Security forces arrested the mother of the 19-year old terrorist responsible for the slaughter of three Israeli Jews in the town of Halamish (Neve Tzuf) Friday night.
In a joint operation early Tuesday morning between the IDF, the Border Police, and Shin Bet internal security agency, the mother of the Halamish terrorist was taken into custody on suspicion of incitement to violence, after she made repeated calls for terror attacks against Jews.
On Friday, the suspect's son, Omer al-Abed, broke into the Salomon family home in Halamish (Neve Tzuf) in western Samaria and stabbed four members of the Salomon family, killing three. Yosef Salomon, 70, his daughter Haya, 46, and son Elad, 35, were murdered during the rampage.
In other operations overnight, Israeli security forces nabbed 26 wanted suspects across Judea and Samaria, including 22 terrorists suspected of violent attacks on Israeli civilians and security forces. The arrest operations included the IDF, Border Police, Israel Police, and Shin Bet internal security agency.
Two terrorists were arrested in Jenin, including a member of the Hamas terror organization. A second Hamas terrorist was captured in Beit Iba, near Shechem (Nablus) and a third in Tell, also in the Shechem district. An additional suspect was arrested in Ain Bayt Ilma.
In central Samaria, three more suspects were arrested in Qalqiliya, and one Hamas terrorist was picked up in Naalin. One suspect was arrested in Barukin, near Barkan, west of Ariel, and another in Azoun. In Budrous, one suspect was arrested, and in Kobar, near Ramallah, three suspects were taken into custody.
Six more suspects were arrested in Arab villages in the Gush Etzion area south of Jerusalem, with four more arrested in the South Hevron Hills area, One suspect was arrested in the Jordan Valley.