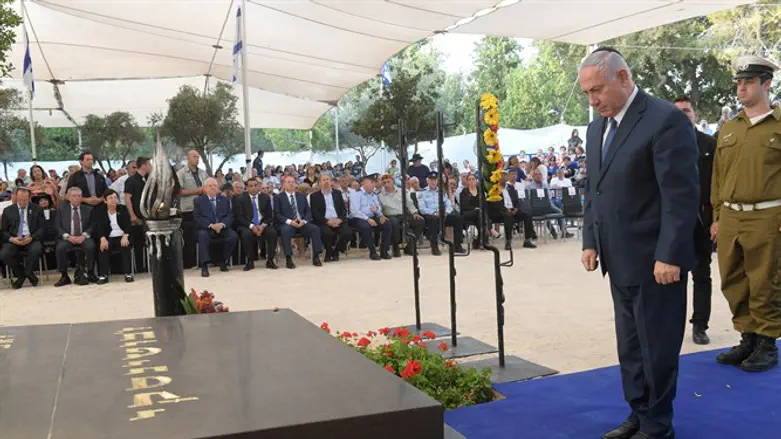 PM at Jabotisnky's grave
Amos Ben Gershom /GPOS
President Reuven Rivlin and Prime Minister Binyamin Netanyahu attended the memorial ceremony for Revisionist Zionist leader Ze'ev Jabotinsky on the 77th anniversary of his death Sunday evening.
The ceremony took place on Mt. Herzl, where Jabotinsky is buried.
In his opening remarks, President Rivlin spoke about the deadly terrorist attack in Neve Tzuf (Halamish) on Friday night and said, "At this very moment, the beloved Salomon family, Yossi, Elad and Haya are being laid to rest. Yossi, Elad, and Haya who were marking the arrival of another child to their family, and were brutally murdered at their Sabbath table. Our hearts, the hearts of all the people of Israel, are with the Salomon family and the community of Halamish at this difficult time. The heart breaks at such moments of mourning and inner turmoil, but it is impossible for public representatives and elected leaders to be silent. The acts of terror, the violence on and off the mountain so holy to Jews and Arabs, must be condemned and must be stopped."
The President added, "I send my condolences, and those of all the people of Israel, to the families of those murdered, and I want to offer strength and support to all the security forces, the IDF, the ISA (Shin Bet internal security agency), and the Police, who are working day and night to protect the people and the land."
Prime Minister Netanyahu also addressed the barbaric terrorist attack in Samaria. "We are in Jerusalem, and our hearts are in Modi'in, at the funeral of the members of the Salomon family."
"On Friday night we witnessed a heart-rending drama of vicious terrorism, the fruit of deep and unbridled Jew-hatred. We have been dealing with murderous terrorism for 100 years – and we will defeat it. The pain is deep but our roots in the land are no less deep. Terror will never defeat us. Terror will never defeat us. We will continue to strengthen our state; we will continue to build up our land."