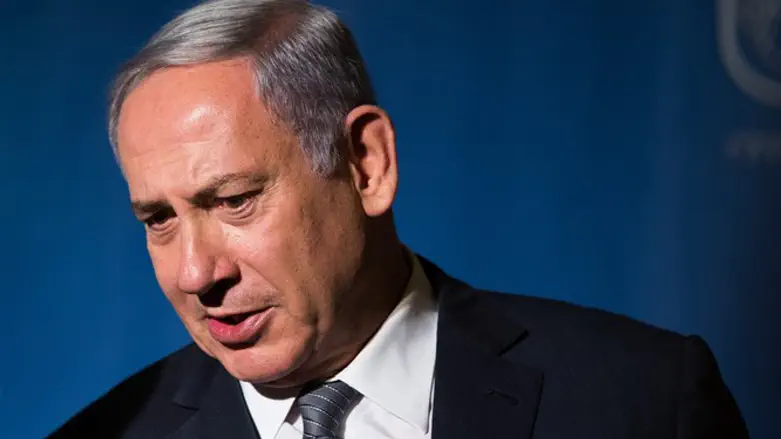 Binyamin Netanyahu
Yonatan Sindel/Flash 90
A private conversation between Prime Minister Binyamin Netanyahu and four central and eastern European leaders was accidently transmitted to journalists outside of the meeting, when Netanyahu forgot to remove a microphone he was wearing.
Israeli Premier was speaking with the leaders of Poland, Slovakia, Hungary, and the Czech Republic on Wednesday, discussing the future of the European Union, the EU's ties with Israel, the Trump administration, and Israeli concerns regarding Iran's nuclear aspirations.
During the meeting, the Prime Minister seemed to criticize former US President Barack Obama, saying that the "big problem" with the US was no longer there.
"We had a big problem with the United States. It's different now. There's a renewed American presence in the region and more bombings. That's positive."
Netanyahu also slammed the European Union, saying that the 28-state body's policy towards Israel was "insane".
"The European Union is the only union that determines its relations with Israel, which provides technology in every area, on political conditions. No one does that. It's insane. It's absolutely crazy. And it's against Europe's interests."
The rest of the world, insisted, Netanyahu, does not impose such arbitrary rules.
"We have a special relationship with China – and they don't care about these political issues."
The Prime Minister then asked the four EU member state leaders to intervene on Israel's behalf.
''I suggest that first and foremost you help us and Europe speed up agreements with Israel, and that you pass a message to your colleagues in Europe on how to help Europe. Everything is at your disposal, in any field."
''Stop attacking Israel. Support it. Europe is disengaging itself from the world's biggest innovation hub. There's no sense in that. Europe is undermining its own security by undermining Israel."
The prime minister also touched upon the global refugee crisis, accusing EU leaders of imperiling their nations' futures with relatively unrestricted immigration from third world countries.
"I think Europe has to decide if it wants to live and thrive or if it wants to shrivel and disappear. I am not very politically correct. I know that's a shock to some of you. It's a joke. But the truth is the truth, both about Europe's security and Europe's economic future. Both of these concerns mandate a different policy toward Israel."
"Secure your borders, secure your borders," Netanyahu repeated.
Netanyahu also acknowledged that the IDF had struck Iranian military shipments to Hezbollah in Syria and Lebanon on numerous occasions.
"I told Putin that if we ever see Iran by our border passing weapons to Hezbollah, we will take military action. And we've done that a dozen times."