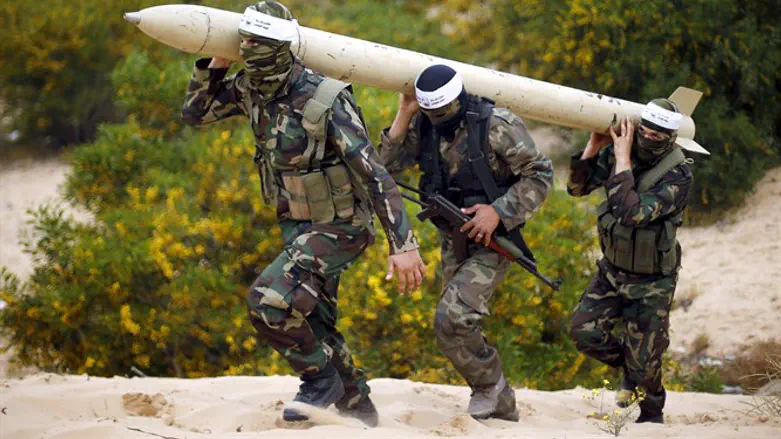 Hamas
Reuters
The Hamas and Islamic Jihad terrorist groups on Monday warned the "Israeli occupation" against continued "aggression" against the Al-Aqsa Mosque.
A joint statement issued by the two organizations said that the continuation of the "aggression" would lead to a broad escalation and that Israel would bear full responsibility for its consequences.
"The Al-Aqsa Mosque is a red line and it is impossible to remain silent in the face of the attack on it," Hamas and Islamic Jihad said in the statement, calling for the return of sovereignty over the Al-Aqsa Mosque to the Islamic Waqf and for an end to the "break ins of the settlers" into the mosque area.
In addition, the two terrorist organizations called on the Palestinian public to mobilize to defend the Al-Aqsa Mosque and to escalate the Al-Quds Intifada, the name used by Palestinian Arab terrorist groups to describe the wave of violent attacks which began in October of 2015.
"Mass demonstrations must take place throughout the homeland and in the diaspora in order to express opposition to the Zionist aggression and to reaffirm the commitment to supporting the Al-Aqsa Mosque," they said.
The statement follows Israel's decision, following Friday's attack on the Temple Mount, to place magnetometers (advanced metal detectors which are selective in which metals they react to) and additional security cameras around the entrances to the holy site.
The new security measures prompted an outcry from the PA, the Jordanian Waqf, and the Jordanian government, which demanded a return to the status quo.
Both Hamas and Islamic Jihad welcomed Friday's attack in which two Israeli police officers were murdered.
Hamas spokesman Sami Abu Zuhri said that "the Al-Quds operation is a natural response to Israeli terrorism and the defilement of the Al-Aqsa Mosque (by the mere Jewish presence there)."
The Islamic Jihad also praised the "heroic attack" saying it was part of the "demonstrations of courage of our people against occupying forces that must now beware to cross a red line."