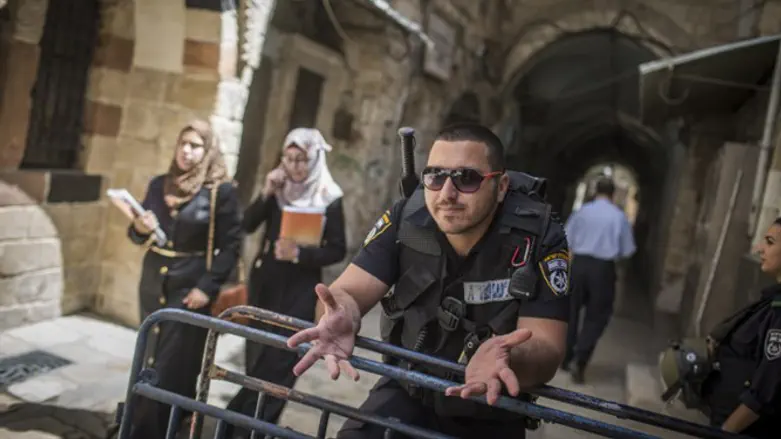 The Temple Mount
Hadas Parush/Flash90
Israeli Prime Minister Binyamin Netanyahu on Saturday evening participated in a telephone conference about the situation on the Temple Mount.
Participating in the teleconference were Public Security Minister Gilad Erdan (Likud), Israel Police Chief Roni Alsheikh, Shabak Director Nadav Argaman, and Jerusalem District Police Commander Yoram Halevi.
During the discussion, the decision was made to gradually reopen the Temple Mount to worshipers, tourists, and visitors beginning on Sunday afternoon.
In addition, magnetometers will be placed at the entrances to the Temple Mount, and security cameras will be placed outside the Temple Mount in strategic locations to allow for full surveillance of the area.
,Earlier, Israel Police arrested three members of the Waqf (the Islamic trust managing the Temple Mount whose continued jurisdiction was granted by then-Defense Minister Moshe Dayan at the end of the Six Day War, ed.) on suspicion of aiding and abetting Friday's terrorists.
The Israel Police's investigation showed that the terrorists used weapons which had been hidden on the Temple Mount several days before the attack. They also found that a Waqf member had helped hide the weapons.
Public Security Minister Gilad Erdan ordered an investigation of Sheikh Raed Salah Abu Shakra's speeches, on suspicion that he may have incited Friday's terror attack.
Raed Salah leads the Islamic Movement's northern branch, an organization declared illegal for promoting terror, and has served time in prison for incitement He was born in Umm al-Fahm, where Friday's terrorist murderers resided, and served as its mayor for several terms. .
Two police officers were murdered on Friday morning in a terrorist shooting attack on the Temple Mount in Jerusalem, and a third was lightly wounded. The three terrorists were eliminated by police.