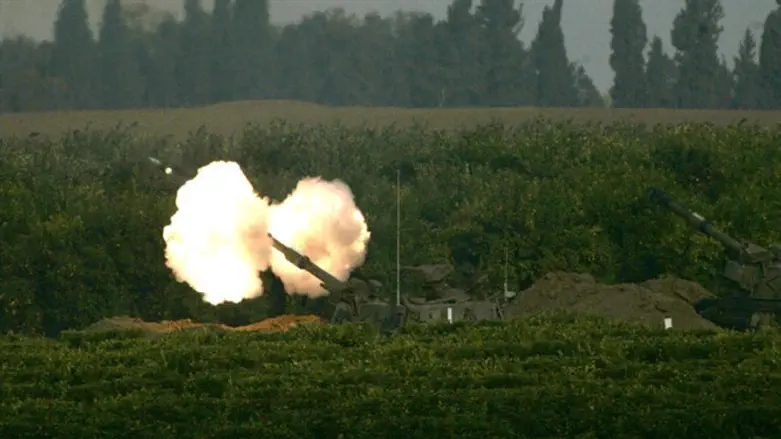 IDF mobile artillery unit
Flash 90
IDF forces struck Syrian army targets Sunday afternoon, after a number of mortar shells from Syria exploded in the Israeli Golan Heights.
According to an IDF spokesperson, the Israeli military attacked two Syrian artillery pieces and an ammunition truck on the Syrian side of the northern Golan Heights.
The IDF spokesperson emphasized that Israel is not "a party to or involved in the Syrian civil war," but added that the IDF "takes seriously any attempt to harm the sovereignty of the State of Israel or the security of its citizens, and views the Syrian army as being responsible for occurs in [Syria's] territory".
The mortar fire from Syria which prompted the Israeli response was likely stray fire, the IDF said Sunday, and not part of a deliberate attack on Israel.
No injuries or damage have been reported.
Over the weekend, a number of mortar shells from Syria landed in the Golan Heights, prompting Israeli retaliations against Syrian government targets.
Prime Minister Binyamin Netanyahu said Israel would continue to respond to any attacks by the Syrian government.
"The IDF attacked Syrian army targets last night," Netanyahu said at a cabinet meeting Sunday morning. "It was a military response to the mortar fire [which] exploded in our territory."