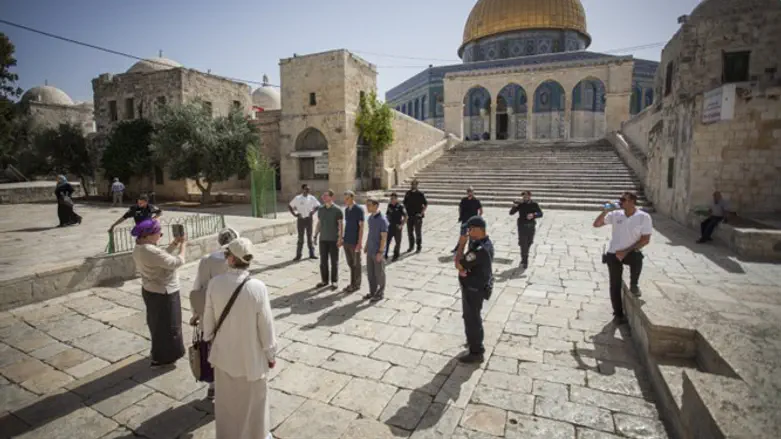 Jewish visitors on Temple Mount
Zac Wajsgras/Flash90
A Turkish organization funded partially by the Turkish government invested in a project intended to bring 500 thousand Israeli Arabs to the Al-Aqsa Mosque "to protect it against Israeli invasion and the threat of its destruction," according to an investigation by Israel Hayom.
The journalist Nadav Shragai reported that an organization called "Mirasimiz" ("Our Heritage," - ed.) organized mass transportation to the Old City of Jerusalem, allotting 11.5 million shekels for this purpose. The transportation project was to have continued for many months, and the organization obtained 11 buses and hired dozens of additional buses every week to execute the project.
Among those transported by the organization were the agressive men's group "Mourabitoun" and women's group "Murabitat," under the auspices of the northern branch of the Islamic Movement in Israel, who later became illegal after they created riots on the Temple Mount, cursing and attempting to threaten and disrupt Jewish visits to the site.
The program included many schools from the Arab sector in Israel, and the organization also made sure to distribute water and food costing 7.5 million shekels to those it was transporting to the Temple Mount.
The Shin Bet discovered that, in exchange for their presence on the Temple Mount and their harassment of Jewish visitors to the site, each one of the Mourabitoun and Murabitat received a monthly salary of 4,500 shekels a month.
Mirasimiz, according to Israel Hayom, also deals with the buying, fixing, and maintaining buildings in the Old City of Jerusalem near the Temple Mount.
The leader of the organization speaks in the style of Turkish President Erdogan, and envisions a future revival of Jerusalem in the spirit of the Ottoman heritage. He said that international law in Jerusalem is Ottoman law, and Turkey has a right to get involved in Jerusalem because the city is the inheritance of the Ottomans.