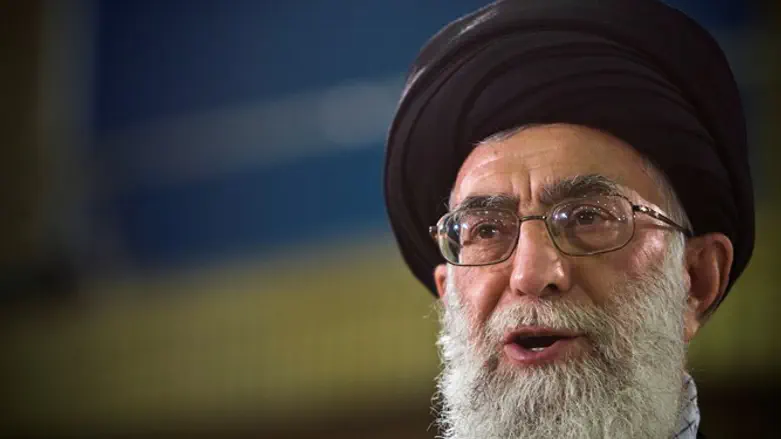 Ayatollah Ali Khamenei
Reuters
Chants against the Saudi royal family and the Islamic State group mingled with the traditional cries of "Death to Israel" and "Death to America" at Al Quds Day rallies across Iran on Friday.
The annual show of solidarity with the Palestinian Arabs, which sees hundreds of thousands take to the streets, was launched by Iran's revolutionary leader Ayatollah Ruhollah Khomeini and is now marked by its allies across the Middle East.
This year's commemoration comes amid an intensifying battle for influence in the region between Shiite Iran and its Sunni arch rival Saudi Arabia who have had no diplomatic relations since January last year.
"Death to the House of Saud and Daesh (IS)," demonstrators chanted. "Death to America", "Death to Israel", "Death to the UK".
Iran has been heavily involved in the war against IS in both Iraq and Syria, where it has trained and advised militias to fight the Sunni jihadists.
Iran controls the Shiite terrorist organization Hezbollah, which is also fighting in Syria.
On Sunday, Iran fired six 750-kilometer (470-mile) range missiles at an IS base in eastern Syria, days after the jihadist group claimed twin bombing and shooting attacks in Tehran.
On Friday, Iran's Revolutionary Guards displayed some of the same Zolfaghar missiles used in the strike in Valiasr Square in the heart of the capital, alongside a 2,000-kilometer (1,250-mile) range Qadr missile.
Iran's ballistic missile program has been the subject of persistent concern in Washington and the target of repeated US sanctions.
Parliament speaker Ali Larijani was set to address the crowds before midday prayers. President Hassan Rouhani also joined the march through the capital.