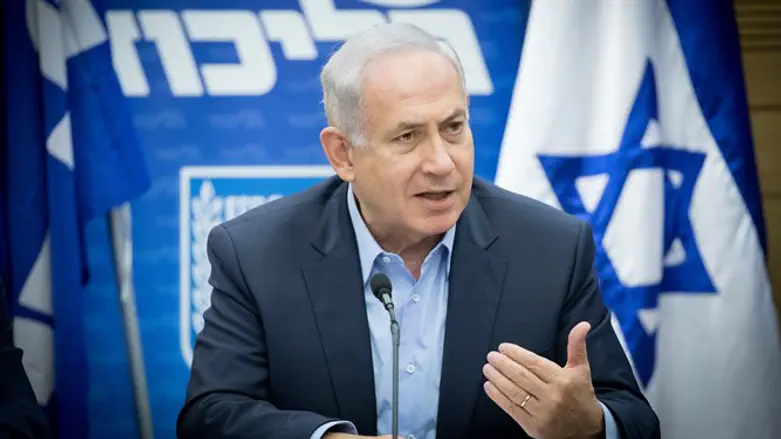 Binyamin Netanyahu
Yonatan Sindel/Flash 90
Prime Minister Binyamin Netanyahu on Monday denied a report in The Wall Street Journal which claimed that Israel regularly provides financial aid to rebel groups in Syria.
"We do not intervene in this terrible bloody conflict, but we do provide humanitarian assistance to wounded children," Netanyahu clarified during a visit to the Ziv Hospital in Tzfat, which has treated many of the wounded Syrians in recent years.
"I see men, women and children who once saw us as enemies when they arrive here, and more than a thousand have already arrived here," Netanyahu said of the medical treatment received in Israel by the victims from the civil war in Syria.
"They understand more than ever that the State of Israel is a moral bastion and a ray of light in our region. They represent different religions and entire communities, Jews and non-Jews, Druze, Christians, Muslims and Bedouins. Everyone who comes here receives the same equal treatment, this is a beam of light in our region," he added.
The Wall Street Journal reported on Sunday, citing Syrian fighters and other unnamed sources, that Israel has been regularly supplying Syrian rebels near its border with cash as well as food, fuel and medical supplies.
Israel has in the past treated some 3,000 wounded Syrians, many of them fighters, in its hospitals and has provided humanitarian aid, but the sources claimed that the country's involvement is much deeper and more coordinated than previously known and entails direct funding of opposition fighters near its border for years.
Israel did not confirm the report, with the IDF saying only that it was "committed to securing the borders of Israel and preventing the establishment of terror cells and hostile forces … in addition to providing humanitarian aid to the Syrians living in the area."
Israel has never taken a side in the Syrian civil war, but the regime of Bashar Al-Assad regularly accuses Israel of supporting rebel groups, to which the Syrian regime refers as "terrorists".
The Syrian opposition in the past has claimed the exact opposite, that Israel was collaborating with Iran and Hezbollah to keep Assad in power.