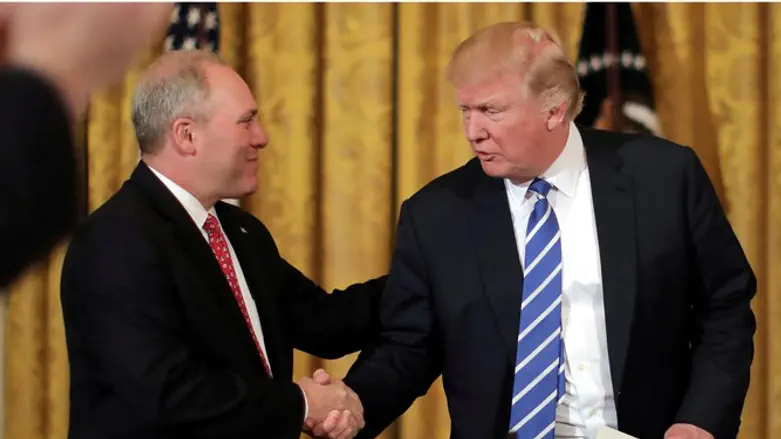 U.S. President Trump shakes hands with Scalise
Reuters
The condition of U.S. Rep. Steve Scalise, who was shot during a practice session of the Republican congressional baseball team last week, has improved slightly and has been upgraded from "critical" to "serious", NBC News reported Saturday, citing hospital officials.
According to the report, Scalise underwent an additional surgery, three days after he was shot in the hip when a gunman opened fire at the baseball practice.
"Congressman Steve Scalise is in serious condition," the statement from MedStar Washington Hospital said.
"He underwent another surgery today, but continues to show signs of improvement. He is more responsive, and is speaking with his loved ones. The Scalise family greatly appreciates the outpouring of thoughts and prayers."
The hospital released the statement on behalf of Scalise's family.
Scalise, 51, is the House majority whip. A doctor said Friday that when he was admitted he was critical with imminent risk of death, but had improved, according to NBC News.
The gunman, James T. Hodgkinson, was killed by police after the Wednesday shooting rampage.
It was later revealed that Hodgkinson had been a volunteer for the presidential campaign of Bernie Sanders, who condemned the shooting.
"I am sickened by this despicable act. Let me be as clear as I can be. Violence of any kind is unacceptable in our society and I condemn this action in the strongest possible terms. Real change can only come through nonviolent action, and anything else runs counter to our most deeply held American values," said Sanders.