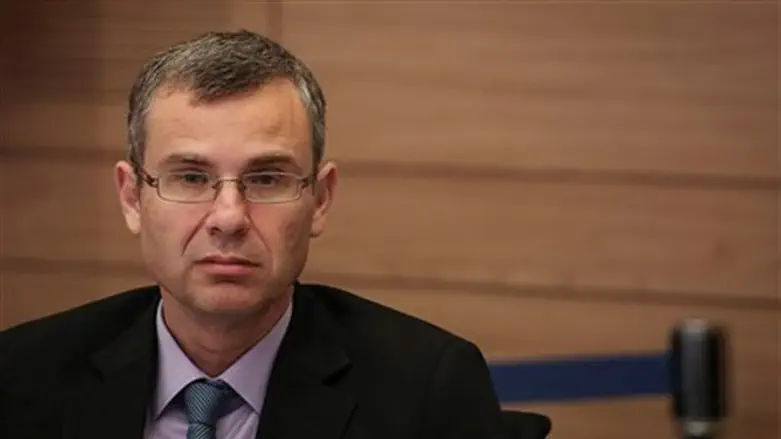 Minister Yariv Levin
Hadas Parush / Flash 90
Tourism Minister Yariv Levin told Arutz Sheva that Israel is not responsible for the humanitarian situation in Gaza, as MK Amir Peretz(Zionist Union) had claimed.
Peretz had responded to the Israeli government's decision to reduce the supply of electricity to Gaza by demanding that Israel provide electricity for the "2 million Palestinians" living in the Gaza strip," stating that "electricity and water are like air we breathe and cannot be denied to anyone."
Levin responded by asking whether Israel is responsible for the entire world's electricity and added that "Nobody is stopping them establish a power station for electricity. We are merely preventing the entry of materials which could be used for weapons. It's time we adopted a clear policy that our leadership must ensure that money is not invested in terror but rather in electric and civil infrastructure."
Regarding the rumors of a peace negotiation going on behind the scenes, Levin dismissed reports claiming that the Prime Minister was demanding to include in negotiations with Palestininans an agreement to let Jewish communities be under Palestinian rule. Levin said that " we don't think that Jews should live under Palestinian rule and don't intend to go in that direction." and concluded that this was a tactical diplomatic statement but not a real opinion of the Prime Minister, as he is opposed to PA demands to banish Jews from Judea and Samaria and demands that the PA recognize the right of Jews to live in any part of the country prior to negotiations.
Levin says that the prime minister had emphasized that there is no intention of leaving Jews under Palestinian rule but wanted the world to at least demand a Palestinian declaration that Jews can live under their rule if required. Since they are unwilling for this to happen the statement embarrassed them and demonstrated their mendacity in claiming that they support peace.
Levin referred to rumors that Tzipi Livni may join the coalition, stating that "all are welcome as long as they accept the basis of the present government policies, including strengthening and increasing Judea and Samaria settlement. He expressed skepticism whether any people on the left-wing could accept such guidelines.
Levin stated that due to bureaucratic reasons "there is not enough construction in Judea and Samaria, the pace is too slow." Levin said that this matter is disputed, since although government ministers claim that construction is at the highest level since 1992 and Defense Minister Liberman maintains that it is not possible to approve more, settler leaders speak of a "freeze, lack of long term plans and violated promises."
Levin claims that there was a clearcut commitment to build 4000 units in the first stage but the numbers do not add up. The pace does not cover the demand." Levin added that this was a wrong decision and construction should be without any constraints at all and should not be confined to existing plans but should be expedited.