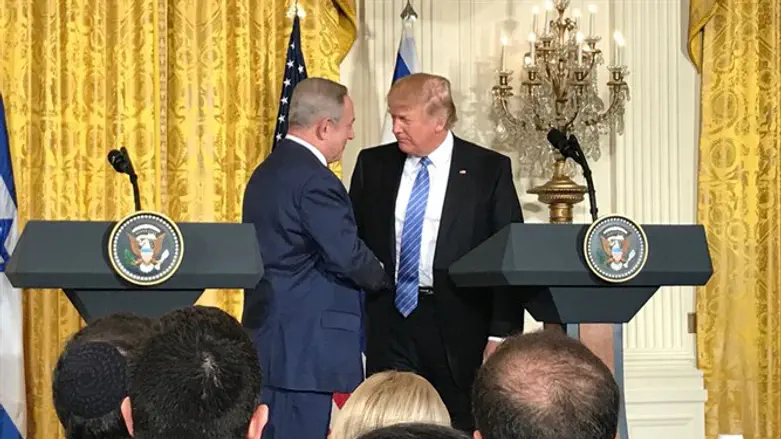 Netanyahu and Trump
Hezki Baruch
A senior Israeli intelligence official praised President Donald Trump on Tuesday, saying that under the Trump administration, American intel agencies had significantly broadened the scope of their cooperation with Israel's security establishment.
Intelligence Minister Yisrael Katz (Likud), who also holds the Transportation Ministry portfolio, responded Tuesday morning to a recent report by The New York Times which claimed Trump revealed information allegedly obtained by Israeli cyber intelligence units regarding an ISIS plot to down passenger airlines with laptop bombs.
Speaking with Army Radio Tuesday, Katz said that while the allegeed incident did not help Israel's security, Trump had done much to expand intelligence-sharing with Israel.
"All of this business, whether it's true or not, doesn't help matters," said Katz, adding "I can say that under the directives of President Trump, the intelligence ties between Israel and the US have been deepened and expanded, and there is definitely cooperation."
Last month, The Washington Post reported that President Trump disclosed information obtained by a key US ally to the Russian Foreign Minister and Russian Ambassador to the US – information whose very nature revealed its source.
On Monday, The New York Times claimed that the ally in question was Israel, and that the information disclosed related to Israeli revelations of an ISIS plot to build miniaturized indistinguishable explosives concealed within laptops.
The very disclosure of the information, it was claimed, revealed Israel's successful hacking of an ISIS cell's computer network.