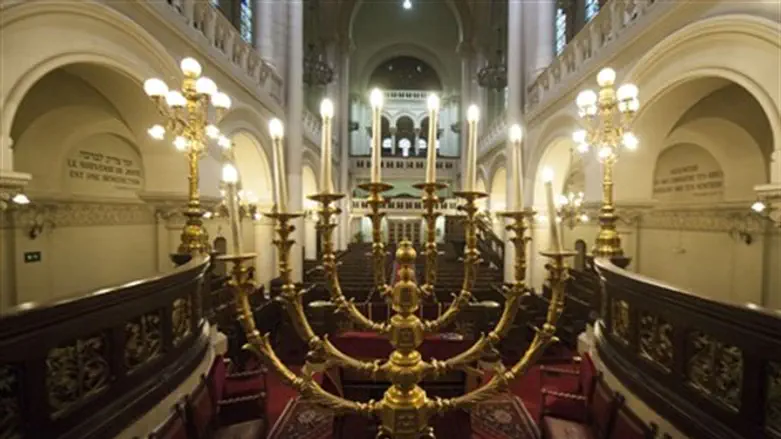 A synagogue in the Diaspora
Johanna Garon:Flash 90
While the number of Orthodox Jews in the United States is on the rise, non-Orthodox American Jewry is in the midst of a steep demographic decline which, according to a new study, is only growing worse.
The Jewish People Policy Institute, a Jerusalem-based think tank founded in 2002, released a new study earlier this week entitled "Raising Jewish Children: Research and Indications for Intervention".
The study highlights the decline of the non-Orthodox Jewish family, going beyond the often-cited rising intermarriage rates to include marriage patterns and birthrates.
In contrast to the Orthodox community, which has grown in recent years and exhibits high levels of demographic stability, non-Orthodox American Jewry is not only disappearing through record high levels of intermarriage with non-Jews, but through declining birthrates, a trend that is tied in part to the lower marriage rates and later age at which couples wed.
Orthodox Jews (haredi and non-haredi) who constitute just 12% of the American Jewish population, make up more than 27% of all Jewish children nationwide, and in the greater New York metropolitan area some two-thirds of Jewish children come from Orthodox homes.
This is due both to the larger family size among Orthodox Jews, and the high intermarriage rate among non-Orthodox Jews. A third factor that has emerged, the study notes, is the tendency among non-Orthodox Jews to marry later – or never marry at all.
While according to the Boston Jewish Population Survey, 87% of Jews in their 30s were married from 1965 to 1975, the number of Jewish thirty-somethings who were married had declined by 20 points to just 67% during the decade spanning 1985 to 1995. Today, just 50% of all non-Orthodox Jews ages 25-54 are married.
Non-Orthodox Jews are increasingly putting off marriage until their late 30s or early 40s. Just 27% of non-Orthodox Jews in their prime years of child-rearing – 25 to 34 – are currently married, while an additional 16% said they are living with a partner, and 4% are divorced.
Among non-Orthodox aged 35-44, 71% are presently married, 8% are living with a partner, and 8% are divorced or separated. Only 13% of non-Orthodox Jews aged 45-54 said they were never married, with 57% being currently married.
Even among those who do marry, fewer are having children, with just 68% of married non-Orthodox Jews ages 25-54 having children in their households. Among those who never have been married, just 2% said they had children in their households. In total, just 39% of those aged 25-54, married or single, said they had children at home. Of those who reported having children at home, 79% said the children were Jewish, compared to 21% who said they were not Jewish. But less than half (48%) of those who had children at home said they were Jewish by religion.
Perhaps most telling, among non-Orthodox Jews in the key child-rearing age cohort (25-39), a whopping 68% said they had no children. An additional 9% said they had non-Jewish children.
Among those who are married, intermarriage with a non-Jewish spouse has become the norm.
While 50% of all non-Orthodox Jews aged 25-54 have no spouse or partner, of the remaining 50% who do, 58% say their partner is not Jewish, compared to 42% who say their spouse or partner is Jewish. Overall, just 21% of non-Orthodox Jews 25-54 have Jewish spouses or partners.
Intermarriage rates appear to be increasingly steadily, with just 45% of married Jews aged 50-54 being intermarried with non-Jews, compared to 49% among those aged 45-49, 60% among those aged 40-44, 73% among those aged 35-39, and 75% among those aged 30-34.
In summing up the marital and parental status of American Jews, the JPPI study shows that among all non-Orthodox Jews in the 25-54 age group, just 15% were married to a Jewish spouse and had Jewish children. An additional 8% had a Jewish spouse but no children, 4% were single parents, 36% were single and had no children, 13% were intermarried and had Jewish children, 8% had non-Jewish children, and 17% were intermarried but had no children.