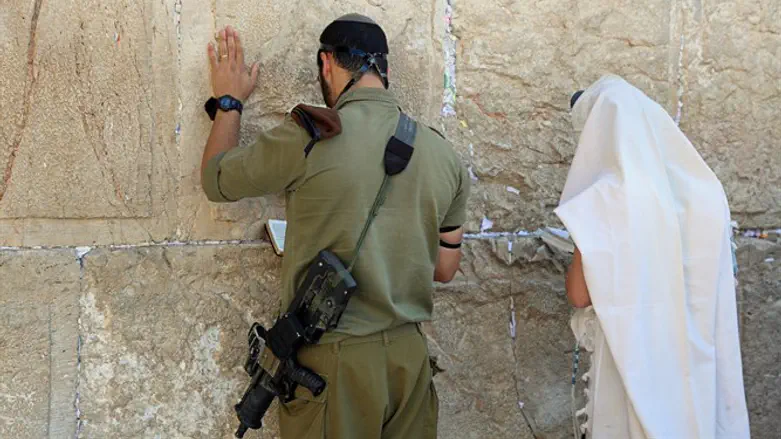 Western Wall
iStock
General in the Reserves Nehemia Dagan, who formerly served as the head officer of the IDF's education corps, responded this morning to Arutz Sheva'sexposé that the education corps forbids IDF commanders from teaching soldiers that Jerusalem was "liberated" after the Six-Day War, only allowing that it was "unified."
In an interview on the Kalman Liebskind radio program on Kan Bet, Dagan said that "The army is forbidden from trying to influence opinion. Since we brought in religion and tradition and all that, it only has had a destructive effect."
"At the beginning we were blessed with a greater number of religious soldiers in the army. But since then, rabbis started getting involved and inserting things," he said. "The religious are pushing the IDF into a no-go zone all the time. Why should the army celebrate Jerusalem Day?"
Dagan defended the decision of the education corps regarding Jerusalem, asserting that "There are those in the army who disagree with our right to Jerusalem, and this is a no-go zone for the army."
Minister of Culture Miri Regev (Likud) also responded to the IDF decision to prohibit commanders from saying that Jerusalem was "liberated." In an interview with Erel Segal on Army Radio, Regev called the regulation "a disgrace," and said that she would send a letter to Defense Minister Avigdor Liberman and to IDF Chief of Staff Gadi Eizenkot.
According to Regev, the government decided to mark 50 years since the Six-Day War and the "liberation and unification" of Jerusalem.
"Jerusalem was liberated and unified, and I expect that the Chief of Staff will act according to the protocols of the state of Israel. The army is part of government decision-making," she said.
"It doesn't make decisions by itself or separately from the government," she added. "I expect the Chief of Staff to also be a part of this established concept."