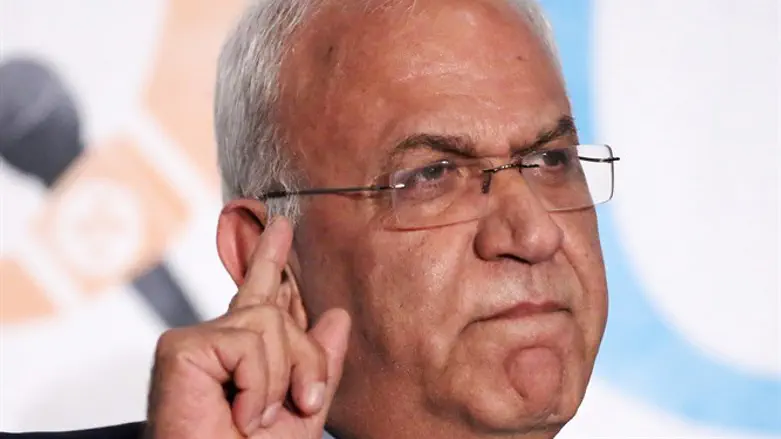 Saeb Erekat
Reuters
Saeb Erekat, Secretary General of the Palestine Liberation Organization (PLO), on Sunday blasted Israeli lawmakers for holding their weekly cabinet meeting in Jerusalem.
The meeting was held in the Western Wall tunnels instead of in the Knesset in order to honor Jerusalem Day, which was celebrated last week.
During the meeting, the ministers approved several projects important for Israel's capital, including two projects intended to make the Western Wall more accessible for wheelchairs.
"We condemn in the strongest terms the latest provocation by the Israeli government, holding its weekly cabinet meeting in the tunnels beneath the Al-Aqsa Mosque compound in occupied East Jerusalem," Erekat said later on Sunday, in comments quoted by i24news.
"Today's meeting in Occupied East Jerusalem is an attempt by the Israeli government to normalize occupation, oppression and colonization over the land and the people of Palestine," Erekat charged, adding, "the Israeli government insists on sabotaging international efforts."
Last week, Palestinian Authority (PA) chairman Mahmoud Abbas took issue with Prime Minister Binyamin Netanyahu's statement that Jerusalem would remain under Jewish sovereignty.
"East Jerusalem, with its holy sites for Islam and Christianity, is the capital of the Palestinian state and will remain so forever," said Abbas's bureau, according to Yediot Aharonot.
The bureau claimed that Netanyahu's words create tension and undermine U.S. President Donald Trump's efforts to establish peace between Palestinian Arabs and Israelis.
That statement came after Netanyahu spoke to the Knesset about Jerusalem Day, saying, "We will not go back to a situation in which we can look at the Western Wall, but cannot approach it."
"To you, the members of the Knesset, the citizens of Israel, and to the entire world, I want to make it clear: The Temple Mount and the Western Wall will forever stay under Israel's sovereignty," he stressed.
PA officials continuously accuse Israel of "Judaizing" Jerusalem, particularly on the Temple Mount, even though it is in fact Jews who are being discriminated against.
The Jordanian Waqf keeps an iron fist on the Temple Mount and its activities; Jews face constant discrimination and violence for visiting the site, and there is a blanket ban on Jewish prayer there.
Muslims and Christians, however, have free reign to worship at and visit the Mount.