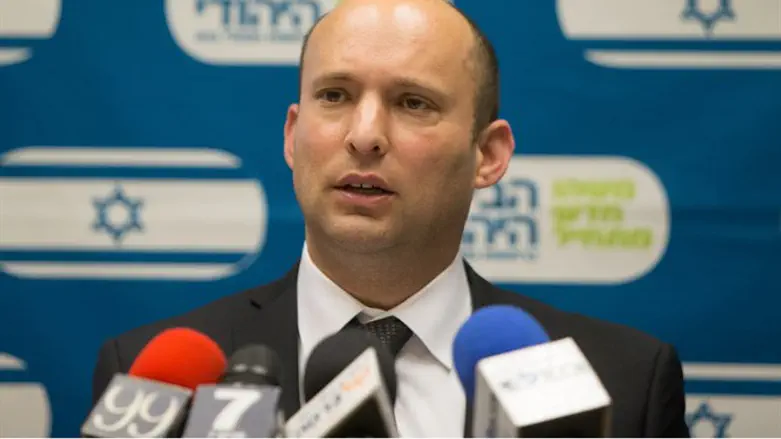 Naftali Bennett
Yonatan Sindel/Flash 90
Education Minister Naftali Bennett (Jewish Home) expressed optimism Thursday following President Donald Trump's visit to Israel earlier this week, saying that with the new administration, Israel and the US could pursue "right-wing peace" based on strength, rather than continual concessions.
Speaking with Army Radio Thursday evening, Bennett said his vision of peace could be achieved in cooperation with the Trump White House.
"The time has come for the 'peace of right-wingers', peace through strength, an economic peace. That is a peace that takes into account our mutual interests with the Gulf States – a peace [based] on stopping Iran. Not everything revolves around the Palestinians," continued Bennett. "People don't get up in the morning in capital cities around the world and says, 'Wow, what happened in this village or that village [in the Palestinian Authority]."
In a conversation with Channel 2, Bennett discussed his mid-handshake call to President Trump to recognize Jerusalem as the united capital of Israel.
"Welcome to Israel. It's Jerusalem's birthday, you know – 50 years," Bennett told the president. "This is the time to recognize Jerusalem."
While in a video clip of the handshake, President Trump can be heard saying "That's a good one," Bennett said the president "promised me he would seriously consider the proposal to relocate the embassy."