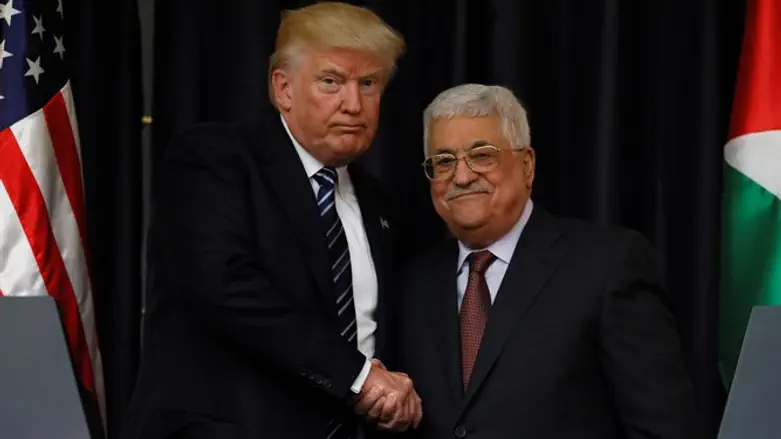 Abbas and Trump
Reuters
Palestinian Authority (PA) chairman Mahmoud Abbas told U.S. President Donald Trump during their meeting Tuesday in Bethlehem that he is willing to begin peace negotiations with Israel right away, the White House said in a readout of their meeting.
"President Trump again stressed his belief that peace between Israelis and Palestinians is possible. President Trump and President Abbas reaffirmed their commitment to reach for a genuine and lasting peace between Palestinians and Israelis," said the statement.
Trump, it continued, "stressed the importance of creating an environment consistent with the desire for peace. The two leaders discussed ways to advance negotiations and considered how Arab states might support those negotiations. President Abbas noted that he was ready to begin negotiating immediately."
"President Trump and President Abbas condemned the terror attack that occurred in Manchester and offered condolences to the victims and the families of those who lost loved ones. The two leaders expressed their support for the Riyadh Summit leaders' condemnation of terrorism and corresponding pledge to counter terrorist financing and combat extremist ideology," the readout added.
Trump and Abbas "agreed to continue their discussions on the issue of payments to Palestinian prisoners and the need to improve the Palestinian economy," it concluded.
Trump has indicated he would like to broker a peace deal between Israel and the PA, though so far it remains unclear what his plan is.
A senior American official said on Tuesday night, according to Haaretz, that the Trump administration is seeking a public warming of ties between Israel and its Arab neighbors and to set "a common set of principles" by which to renew the Middle East peace process.
"The first step (in the renewed diplomatic initiative) there is to bring relationships that are warm and strong privately and bring them more public and also set forth a common set of principles that everyone wants to abide by," said the official during a press briefing aboard Air Force One on its flight from Israel to Italy.
The official did not detail what common principles the administration is considering, but stressed that the main principle the American government wishes to insure is discretion and the maintenance of private talks between various representatives.
The official stressed that the administration doesn't expect to reach an agreement tomorrow morning, adding that the goal of President Trump's trip to the Middle East was mainly to listen and learn the positions of the sides and hear what the other countries in the region have to say.
Whether Abbas is sincere in his remarks that he wishes to begin talks has yet to be determined. To date, Abbas has rejected calls by Israel to sit down for direct negotiations, choosing instead to impose preconditions on such talks.