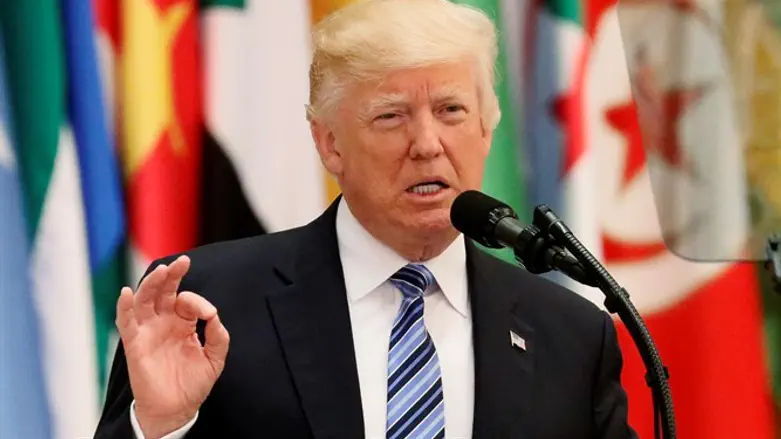 Trump in Saudi Arabia
Reuters
A senior American official on Sunday night responded to Israeli concerns over the $110 billion arms deal signed between the U.S. and Saudi Arabia over the weekend.
The official, who is travelling with U.S. President Donald Trump on his first overseas trip which will bring him to Israel on Monday, told the Reuters news agency that Washington understands what he described as Israel's "completely legitimate" concerns, pledging to help the Jewish state maintain its military advantage.
"We're taking a whole bunch of measures, some apparent some not so apparent, to ensure Israel's qualitative military edge. That will in no way be compromised," the official told Reuters.
"You'll hear a really strong statement from the president on his commitment to Israel and to Israel's defense," the official added.
Earlier on Sunday, Energy Minister Yuval Steinitz (Likud) expressed concern over the deal, saying at the weekly Cabinet meeting, "This is a matter that really should trouble us. We have also to make sure that those hundreds of billions of dollars of weapons to Saudi Arabia will not, by any means, erode Israel's qualitative edge, because Saudi Arabia is still a hostile country without any diplomatic relations and nobody knows what the future will be."
Intelligence Minister Yisrael Katz (Likud) supported a regional coalition with Saudi Arabia, but said that there were limits to the amount of military aid to Saudi Arabia Israel could accept.
"A regional coalition should be built under American leadership to block and push back Iran. At the same time Israel's qualitative military edge should be maintained," stressed Katz.
Israeli Reserves Maj. Gen. Yaakov Amidror expressed optimism over the deal, however.
"Maybe [this deal] will lead to a different situation in the Middle East," Amidror told reporters. "In a way, in this new Middle East, in which we hope to cooperate with Arab states to contain the Iranians, I think it may add to self-confidence of the Saudis in their part of this alliance."