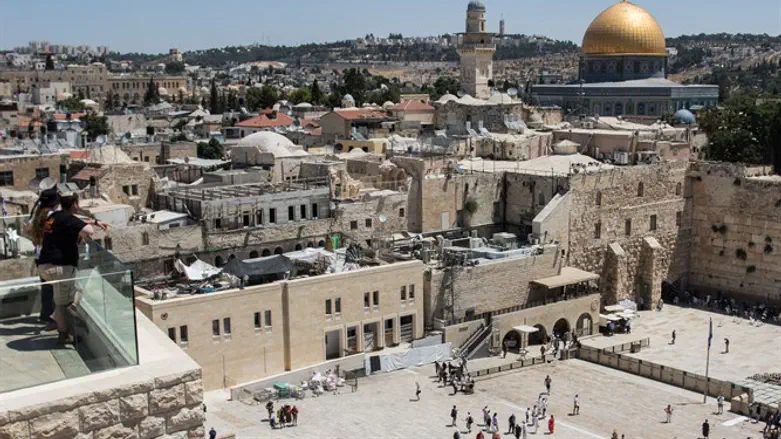 The Western Wall and the Temple Mountת
Flash 90
The cabinet is expected to approve next week the proposal of Housing and Construction Minister Yoav Galant, Tourism Minister Yariv Levin and Deputy Housing and Construction Minister Jackie Levy to build an elevator and underground passages in orcer to make the Western Wall and the Jewish Quarter of the Old City of Jerusalem more accessible.
The complex engineering project will allow elderly and disabled people to reach the holy site and the Jewish Quarter more easily and safely.
According to Ministers Galant and Levin, the project - which will cost NIS 50 million ($14 million) - is necessary because of the Jewish connection to the Western Wall and the Old City.
In addition to Ministers Galant and Levin, the government ministries of Zeev Elkin, Miri Regev, Gila Gamliel and the National Insurance Institute will also participate in financing the project.
According to the plan, the elevator shaft will be approximately 33 meters (108 feet) from top to bottom. It will begin at the level of the Jewish quarter on Misgav Ladakh Street, and will descend to the level of the Western Wall. There will also be a 65 meter (213 feet) pedestrian tunnel connecting the exit from the elevator to The Western Wall at the security checkpoint.
Galant said that "Jewish values begin at the Western Wall - the heart of the Jewish people. At a time when there are those who try to undermine the Western Wall's connection to the Jewish people as well as Israeli sovereignty, my colleagues and I are proud to lead the process of strengthening the presence of all Jews in this holy place, including making provisions for the elderly and the disabled."