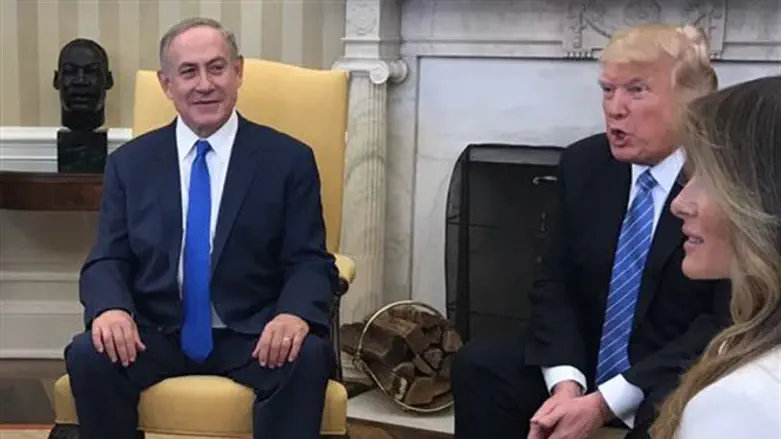 Trump and Netanyahu
Hezki Baruch
Prime Minister Binyamin Netanyahu told US President Donald Trump not to move the US embassy in Israel from Jerusalem to Tel Aviv, Fox News foreign correspondent Conor Powell reported Monday afternoon.
"Everyone I've spoken to in DC that has been briefed on #Jerusalem embassy move says #Netanyahu told #Trump not to move embassy at this time" Powell wrote on his Twitter account.
The report that Netanyahu explicitly told Trump not to move the embassy comes after he had told the Likud faction that relocating the embassy to Tel Aviv would benefit the peace process because it would 'shatter the illusion' of the Arabs that they could oppose Israel's sovereignty in its own capital.
"The US Embassy should move to Jerusalem, and so should other embassies. I presented this position in my meetings with world leaders, with all of the diplomatic corps, and with the Likud faction," Netanyahu said at the start of the weekly Likud faction meeting Monday.
Netanyahu added, "Not only will the transfer of the embassy not harm the peace process, on the contrary, it will advance it, by shattering the illusion."
"I am happy to hear that other parties are also adopting the Likud's message [on the relocation of the embassy]. This is very good. Keep it up," the Prime Minister said of Education Minister Naftali Bennett's calls for the government to make it clear to the Trump Administration that the only acceptable location for the embassy is in Jerusalem.
The Prime Minister's Office released a statement yesterday saying that the transfer of the US embassy to Jerusalem would 'shatter the Arab fantasy' of denying Israel's sovereignty in its own capital.
"Israel's position has often been expressed to the American administration and to the world," the PMO's statement read. "The transfer of the American Embassy to Jerusalem not only will not harm the peace process, but the opposite. It will advance it by correcting a historic injustice and by smashing the Palestinian fantasy that Jerusalem is not the capital of Israel."
However, Coalition chairman David Bitan said Monday that Netanyahu was not prepared to pay the political price the Trump Administration would demand in exchange for moving the embassy to Jerusalem.
"The Americans are delaying, and the Prime Minister doesn't want to commit [political] suicide over this right now," Bitan told Israel Radio.