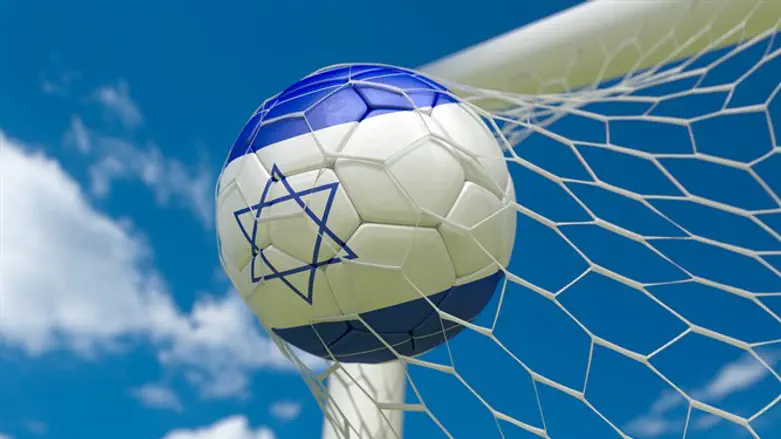 Israeli soccer
iStock
The FIFA Congress, which convenes in Manama, the capital of Bahrain, decided Thursday to adopt the proposal of the president of the organization, Gianni Infantino, not to vote on the PA's proposal against the teams from Judea and Samaria.
The decision was made by a large majority and 73% of the member states voted for it.
According to FIFA's website: "The Fédération Internationale de Football Association (FIFA) is an association governed by Swiss law founded in 1904 and based in Zurich. It has 211 member associations and its goal, enshrined in its Statutes, is the constant improvement of football."
PA pressure on FIFA has continued since 2015, led by the president of the Palestinian Federation, Jibril Rajoub.
Arabs opposing the activities of six teams from Jewish villages in Judea and Samaria in the Israeli leagues rely on a clause in the FIFA constitution, which states that a country is forbidden to establish football teams in the territory of another political entity that joined FIFA and to participate in its league without the consent of that political entity.
In Israel there are six groups that fall into this category and play in Ma'aleh Adumim, Ariel, Kiryat Arba, Givat Ze'ev, the Jordan Valley, and Oranit. All six teams play in the lower leagues.
Ofer Eini, chairman of the Israel Football Association, said, "Strenuous work that stretched for many months was successful, and the Palestinian attempt to embarrass Israel and lead to practical steps against it did not succeed. We have good and faithful friends at FIFA, and we have been able to make clear once again that mixing politics and sports can be disastrous, and therefore FIFA must avoid it."
Culture and Sports Minister Miri Regev said, "Jibril Rajoub lost again. All your attempts to bring Israel down in FIFA failed. 73% vs. 27% voted in favor of rejecting your proposal. We were happy that we managed to kick politics off the soccer field."
Meanwhile, pro-Arab site Middle East Eye reports that an Human Rights Watch activist was due to urge FIFA to press Israel on sponsoring football matches in Judea and Samaria, but Bahrain banned him from raising the issue at the summit by blocking his entry into the conference.
Omar Shakir, an American citizen, arrived at Manama airport on May 9th and identified himself to border authorities as "Human Rights Watch's researcher for Israel and Palestine", and indicated that he had come to hold meetings on the margins of the 67th FIFA congress.
Israeli Prime Minister, Binyamin Netanyahu warned the FIFA president Gianni Infantino in a phone call on Sunday that the Palestinian resolution could "ruin FIFA", Haaretz reported.
"The Palestinian conflict is long-term and FIFA isn't going to solve it," Netanyahu told the FIFA president, according to Haaretz.