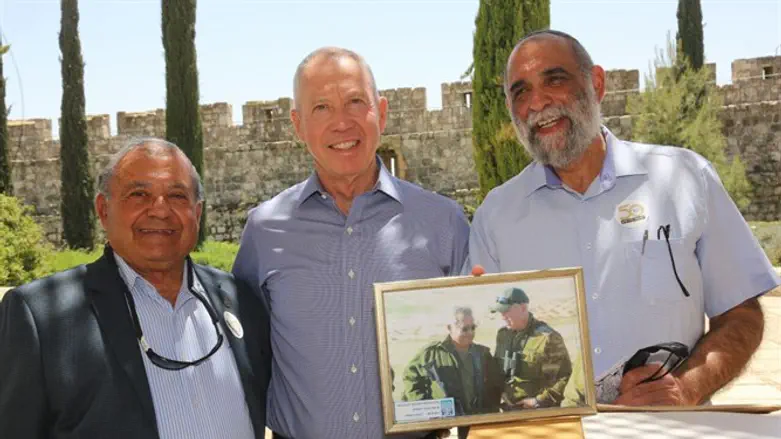 Minister Yoav Galant, today
Sasson Tiram
Housing and Construction Minister Maj. Gen. (res.) Yoav Galant addressed the opening of the "Touching the Moment" exhibition at the Davidson Center in Jerusalem this afternoon (Monday), to strengthen the city's status.
"Jerusalem for the Jewish people is not 'another place.' The entire world looks to Jerusalem because the deepest and most fundamental values ​​of justice and morality for all the nations of the world were formed here in Jerusalem," Galant said.
"We must establish our hold on Jerusalem, from Ma'aleh Adumim in the east to Giv'at Ze'ev in the west, from Atarot in the north to the Bethlehem area and Rachel's Tomb, to the outskirts of Efrat and Gush Etzion. It has historical, strategic, and moral importance."
Galant said, "Anything that can possibly be done relating to my area of ​​responsibility and influence will be done with an aim to strengthen Jerusalem, whether we are talking about the Western Wall elevator we are working to strengthen, the establishment of the Tiferet Israel synagogue, various commemoration projects, discovering antiquities and their connection to our heritage and history.
"It is important to explain to the world the rightness of our way, especially these days when there are Holocaust deniers and those who deny the Jewish connection to the Temple Mount, Jerusalem, and everything in it. Both Christians and Muslims know in their hearts that this historic place is the cradle of Judaism and monotheism. Our strength is rooted in the justice of our way, we must instill this insight into anyone who tries to undermine this reminder," the Minister concluded.