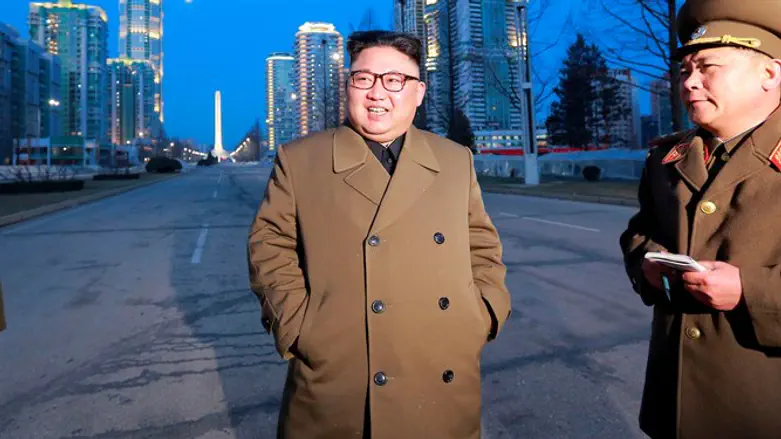 Kim Jong-Un
Reuters
North Korea's Defense Ministry on Saturday reacted to Israeli Defense Minister Avigdor Liberman's (Yisrael Beytenu) statement that Kim Jong-un is "a madman," threatening to punish Israel "a thousand fold."
In an interview with Walla! News, Liberman said, "That madman from North Korea is [Syrian President Bashar] al-Assad's closest friend, and he's a friend of the Iranians, too. There is a pact of evil here, from North Korea, through Iran, to Syria and Hezbollah. These people, their entire purpose is to try to undermine the stability of the entire world. It's an extremist and insane group."
"Any nuclear disaster in any part of the world will influence the entire world," Liberman added. "We need to understand: There is no such thing as a regionally-limited nuclear disaster."
In response, North Korea said the "the irresponsible remarks of the Israeli defense minister are sordid and malicious behavior, and present a grave challenge to the DPRK (North Korea)."
"This is a cynical ploy to escape international condemnation for preventing peace in the Middle East, occupying Arab territories and committing crimes against humanity," the North Korean spokesman said.
"Access to nuclear power is a justified right needed for self-defense in order to cope with US provocative moves and aggression.
"It is the steadfast will of the people of the DPRK to mete out merciless, thousand-fold punishment to whoever dares hurt the dignity of its supreme leadership."
"Israel would be well advised to think twice about the consequences of its smear campaign against the DPRK, meant to cover up its own crimes of occupying Arab territories and disturbing the peace process in the Middle East."
Earlier on Saturday, North Korea tested a ballistic missile. Officials say the test failed. Last Sunday, North Korea threatened to nuke Australia for siding with the US.
On April 16, North Korea attempted to launch a missile - but it blew up in the sea. Experts claim they may also have publicly displayed an ICBM during a parade marking the 105th birthday of North Korea's founder.