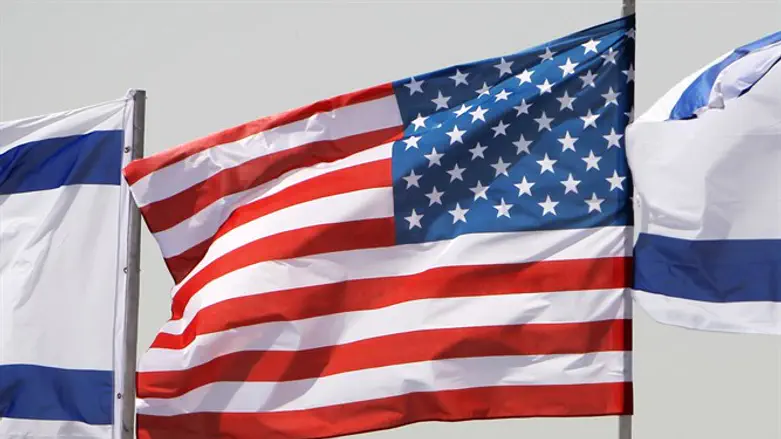 American and Israeli flags
Flash 90
Two New York Congress members have introduced a bipartisan resolution to honor the Israeli-American community ahead of Jewish Heritage Month in May, JTA reported Thursday.
Reps. Grace Meng, a Democrat, and Lee Zeldin, a Republican, introduced the resolution on Wednesday, according to the report.
The resolution "affirms that the Israeli-American community has contributed immensely to American society and culture."
The resolution lauds Israeli-Americans' contributions to the fields of national security, high-tech and biotech, and highlights two successful Israeli Americans — aerospace engineer Abraham Karem, an aerospace engineer, and Safra Catz, the CEO of Oracle.
Meng and Zeldin, who is Jewish, in a statement Thursday praised the contributions of Israeli Americans.
"From creating technological advancements that we use every day, to starting businesses that employ tens of thousands of Americans, the Israeli-American community continues to thrive, thereby strengthening our economy," Meng said.
"Israeli-Americans contribute in many ways that create jobs and help grow our economy, while strengthening our nation's national security to protect America's interests at home and abroad," added Zeldin.
The Israeli-American Coalition for Action on Thursday praised Meng and Zeldin for the move.
"The Israeli-American Coalition for Action is grateful to Reps. Zeldin and Meng for leading this important effort in Congress to recognize the Israeli-American community's unique and wide-ranging contributions to the United States," Israeli-American Council CEO Shoham Nicolet said. "From high-tech to Hollywood, from agriculture to clean energy, Israeli-Americans are making their mark in the U.S. to strengthen our country's security, economy, and future."