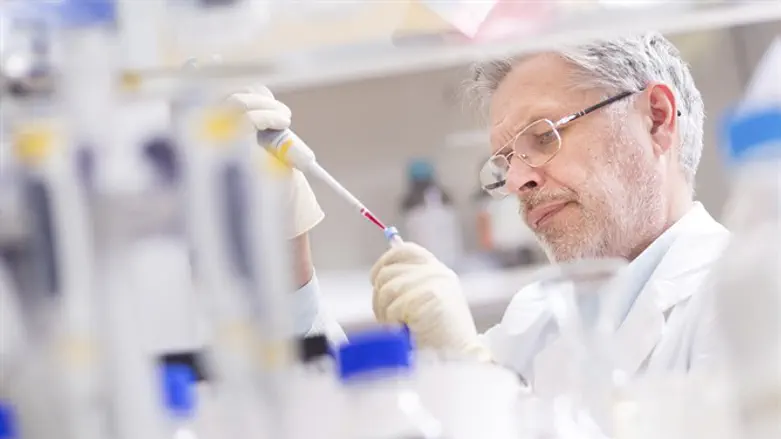 Research (illustrative)
Thinkstock
A new Israeli website created by one of Israel's top scientific research institutions is promoting BDS from inside of Israel.
The Weizmann Institute of Science inaugurated the new site, IsraelBDS.org, Tuesday morning.
Rather than serve as an endorsement of the anti-Israel Boycott, Divestment, and Sanctions movement, which seeks to delegitimize the Jewish state in academia and the business world, IsraelBDS.org is intended to promote Israel's scientific accomplishments and warn of the dangers to global research posed by the boycott movement.
Named "Building Dialog through Science" or BDS, Weizmann's new effort showcases joint research projects between Israelis and researchers abroad – the very kind of efforts the boycott movement seeks to terminate.
The projects featured range from the SESAME synchrotron, a Middle-Eastern facility based in Jordan that aids life sciences researchers from Egypt to Iran; to joint efforts with researchers in California to discover the processes that lead up to the fantastic stellar explosions known as supernovae; to brain research, quantum physics studies, and scientific archaeology.
"Building dialog through science, rather than building walls, has always been our way of doing things," says Weizmann Institute of Science President, Dr. Daniel Zajfman.
"If we are going to work against the other BDS, we must do so with real information. That is the intent of the site we have created. When scientists cooperate in their research, they bring back to their countries an understanding of the ways people can work together on many levels – over and above the scientific – including respect for other cultures and a desire for peaceful coexistence. That is why we believe that cooperation between Israeli scientists and those in universities and research institutes around the globe must be preserved at all costs."