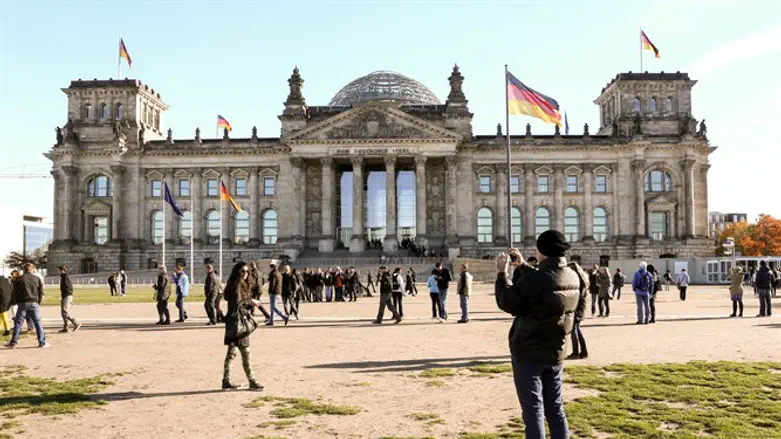 Reichstag building in Berlin, Germany
Flash 90
Jews in Germany say they feel a "growing threat" of anti-Semitism, especially from Muslims but also from xenophobic far-right groups, a parliamentary report said Monday.
They are "increasingly concerned for their safety due to everyday experiences of anti-Semitism," said the Independent Experts Group on Anti-Semitism.
In a 2016 survey, Jewish people questioned about verbal and physical attacks against them put "Muslim persons or groups" first as the perpetrators, ahead of "people unknown" or far-right or left groups, said the report, without providing specific data.
In Germany, which has long struggled with the dark memory of Nazi-era World War II and the Holocaust, there was now "a significant discrepancy in perception" about anti-Semitism, said the group set up by the German Bundestag in 2014.
"While the non-Jewish majority does not see current manifestations of anti-Semitism as a relevant problem, Jews in Germany feel they are facing a growing threat," it said.
"In addition to the disconcerting rise of right-wing populism, there is concern about anti-Semitism among Muslims, these days especially in refugee and migrant populations."
About 200,000 Jews live in Germany, Europe's third largest community after Britain and France, up from only about 15,000 after the end of the Nazi Third Reich.
Germany has taken in more than one million asylum seekers since 2015, many fleeing war and persecution in Syria, Iraq and Afghanistan.
The case of a 14-year-old Jewish boy in Berlin recently made headlines - his parents took him out of a state school with many pupils of Turkish and Arabic descent after he was bullied and threatened by classmates who told him that "all Jews are murderers."
The parliamentary panel report said rising Jewish fears were partly due to "the growing importance of social media", which was "key to the spread of hate speech and anti-Semitic agitation".
It called for closer online monitoring and for using legal instruments "to delete the social bots and fake accounts through which anti-Semitic hate speech is spread".
In addition, it also recommended the appointment of an ombudsperson for anti-Semitism and better nationwide coordination on fighting the problem.
It also called for study into anti-Muslim discrimination and other prejudices, claiming that "these attitudes overlap with anti-Semitic attitudes."