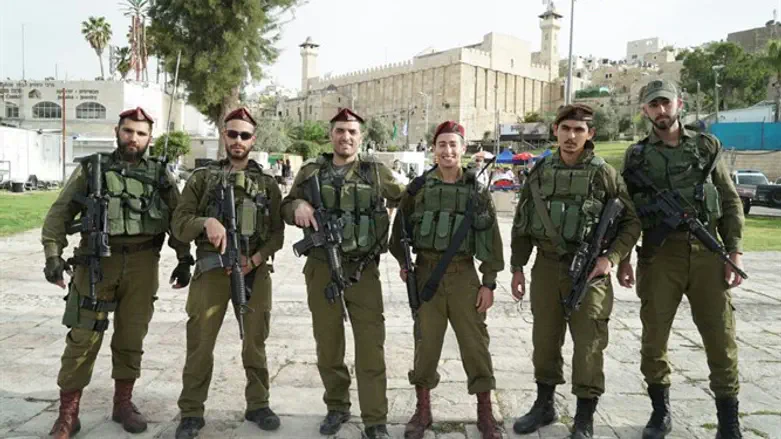 'Pride and a sense of mission'
IDF Spokesperson
Thousands of Jews are flocking to the Cave of Machpela in Hevron this Passover holiday. The cave, of which only specific sections are generally open to Jewish visitors, is open in full to Jews during the Holiday.
1,000 IDF fighters, Police and Border Police are guarding the festive throngs taking part in a variety of tours of holy sites in the Jewish neighborhood of Hevron, as well as in tours and prayers at the Cave of Machpela.
"The many security forces at the scene will work to maintain public order and prevent terror, protecting visitors and pilgrims," Police said.
Regional defense officer of the Judea region Eitan Dana said that "there is no better time to take the family and act on the words of the popular song "get up and walk the Land of Israel with a backpack and stick.'" Thousands of visitors in the Jewish community of Hevron testify to feeling a high level of security.
Within the framework of the Holiday, entry is uniquely being granted to the tomb of the Prophet Otniel Ben-Knaz in Hevron. The tomb is being secured by IDF forces.
Dana added that "for me personally, it is exciting to see the hundreds of visitors, civilians alongside Jewish tourists from the diaspora, Israelis from all sectors, enter the secured premises of the tomb of Otniel Ben-Knaz who, according to tradition, is the son-in-law of Calev Ben-Yefuneh, one of the 12 spies sent to scout the Land of Israel after the exodus from Egypt. We feel pride and a sense of mission to be securing the tomb."