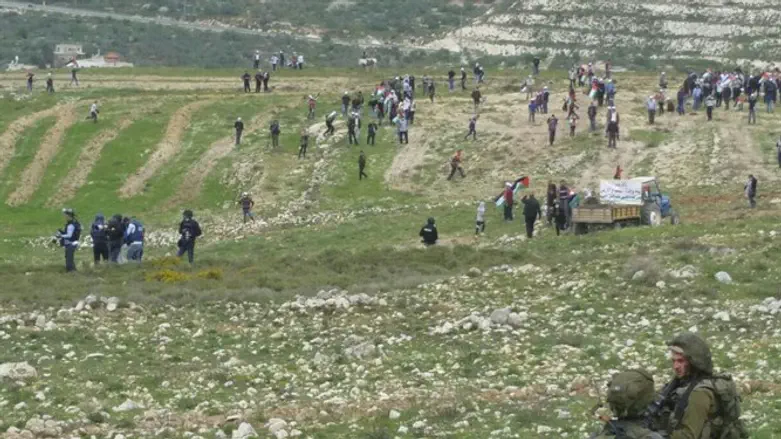 Arab demonstrators march on Yitzhar
Yitzhar security
More than 150 Arab protesters marched on the Jewish town of Yitzhar in Samaria on Thursday as part of the annual Land Day demonstrations against Zionism and the Jewish state.
Land Day, which takes place each year on March 30th, traces its origins back to 1976, when the first Rabin government announced plans to construct new communities in northern Israel.
To facilitate the planned wave of construction, the government declared it would invoke the right of eminent domain to expropriate unused land in the Galilee, with full compensation. The plan required the use of some 20,000 dunams, more than half of which was already designated as state land, while 45% was privately owned – 30% by Arabs and 15% by Jews.
Anti-Zionist elements within the Arab community used the building plans as a pretext for organizing riots and agitating for a general strike in the Arab sector. Riots continue to occur on Land Day every year.
This year, protesters in Samaria demonstrated outside of Yitzhar, and even marched on the town, clashing with security forces.
Anti-riot and crowd dispersal methods were used to push back demonstrators as they approached the town's security perimeter.
Residents reported that Arab rioters hurled stones into Yitzhar, as well as tear gas canisters thrown by security forces to drive them away.
One Arab rioter was reportedly injured by a rubber bullet.