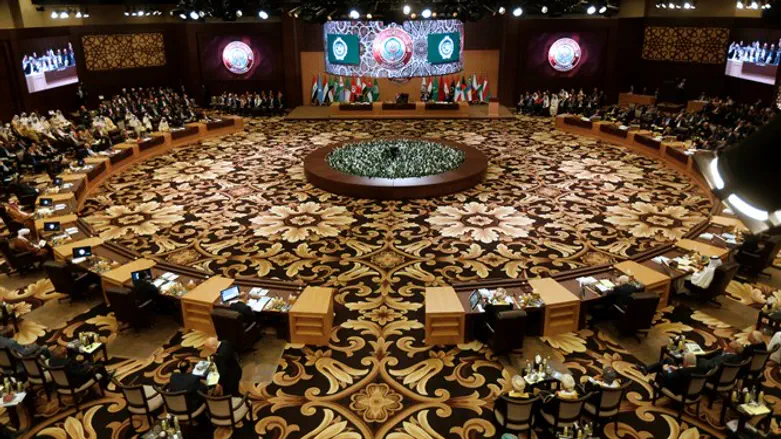 Arab Summit 2017
Reuters
A statement released on Wednesday at the Arab Summit, which convened in Jordan, emphasized the readiness of the Arab world to promote a peace agreement with Israel on the basis of the 2002 Arab peace initiative.
The main points of the statement, which was read by Arab League Secretary-General Ahmed Aboul-Gheit, are as follows:
Continued actions to revive the Israeli-Palestinian Arab peace negotiations in order to set a specific timetable for ending the conflict based on the two-state solution that will ensure the establishment of an independent Palestinian state within the June 4, 1967 borders, with eastern Jerusalem as its capital.
The two-state solution is the only way to achieve security and stability.
Total and permanent peace is an Arab strategic choice that was expressed in the 2002 Arab peace initiative.
Opposition to all unilateral Israeli measures aimed at changing the reality on the ground, thwarting the two-state solution, and changing the legal and historical status of the holy sites of Islam and Christianity in Jerusalem.
The statement is a summary of a resolution adopted earlier this week by Arab foreign ministers.
By referring to "unilateral measures", the resolution seemingly refers to the possible move of the American embassy to Jerusalem, a move sharply opposed by Arab leaders.
The Arab peace initiative, unveiled in 2002 and re-endorsed at the 2007 Arab League summit, says that 22 Arab countries will normalize ties with Israel in return for an Israeli withdrawal from Judea and Samaria.
Israel to date has rejected the plan due to the fact that it calls for Israel to accept the so-called "right of return" for millions of descendants of Arabs who fled pre-state Israel, effectively bringing an end to the Jewish state.
Saudi Arabian Foreign Minister Adel al-Jubeir last year said the initiative is the best solution for the conflict, and rejected Prime Minister Binyamin Netanyahu's demand that the initiative be updated.