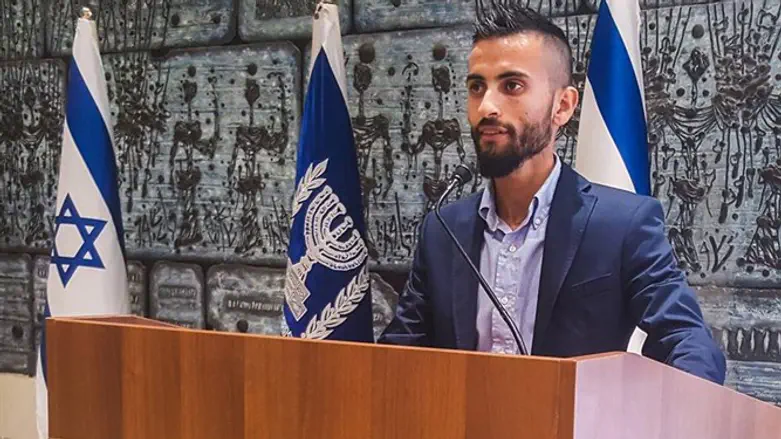 Bedouin soldier turned Israel advocate Muhammad Kabiya
Courtesy of Muhammad Kabiya
As anti-Israel – and increasingly, anti-Semitic – elements on college campuses have become more vocal, more active, and more provocative on college campuses around the US, pro-Israel activists are working to combat the hatred and misinformation found at so many institutions across the country.
One recently demobilized IDF soldier decided to join the fight on behalf of Israel abroad after hearing how hostile many college campuses have become towards supporters of the Jewish state.
Muhammad Kabiya, an Israeli Bedouin who recently completed his service in the IDF on a search and rescue team in the Israeli Air Force, says critics of the Jewish state abroad display a remarkable ignorance of Israel – particularly the anti-Israel Jews he encountered on US college campuses.
Raised in the village of Kabiya, which was named after his family, Muhammad Kabiya comes from a long line of Bedouin who supported Israel and the Zionist enterprise. His village was one of Arab communities in Israel which backed the newly-formed Jewish state in 1948 and fought on its behalf.
Many villagers and relatives have served in the IDF, said Kabiya, who told United With Israel that his family fully supported his decision to enlist.
"My family sacrificed three soldiers in Israel's battles," Kabiya said.
After finishing his service in the IDF, Kabiya continued his work on behalf of Israel, becoming an IDF consultant and pro-Israel activist.
Earlier this year, Kabiya had a speaking tour of college campuses in the US, defending Israel, in Arabic, from Arab detractors, and teaching anti-Israel Jews just how little they know about the Jewish state. The tour was sponsored by the StandWithUs Israel education organization, and was called Between The Lines: Voices from Israel - Stories Untold.
"People don't know anything about what goes on here [in Israel]," Kabiya told Channel 10. "I'm defending the image of the state that they are trying to destroy."
"When I arrived for an address, 'Israel Apartheid Week' had just started. I confronted Jewish students who claimed that Zionism is racism. I told them that they should be embarrassed. I, Muhammad, an Israeli-Arab, was the one who needed to go out and confront anti-Israel Jews. It drove them nuts."
"On the first day [of the speaking tour] a Jewish student gave me a flyer for an address which claimed 'Zionism is racism'," said Kabiya. "I told him 'you should be ashamed of yourself', you don't need to be working with groups whose goal is to spread hatred and lies against the State of Israel, against your state, the state of the Jews – and I'm telling you that as an Israeli Arab."
Kabiya isn't the only Arab working to combat anti-Israel bias in the US; earlier this week Sandra Solomon, joined other pro-Israel activists in a counter-demonstration outside of the AIPAC conference in Washington, challenging an anti-Israel protest organized by IfNotNow, an anti-Zionist Jewish group organized by former Sanders campaign staffer Simone Zimmerman.
A Canadian human rights activist born in Samaria and raised in Saudi Arabia, Solomon has received death threats for her work against the spread of radical Islam in Canada and her pro-Israel message.
"I am Palestinian, but I stand with Israel", Solomon said at the counter-demonstration. "We are the Arabs. We occupy the land of the Jews. This Jewish land. It's going to be there for ever and ever. I used to be a Muslim. They taught me to hate Israel and the Jewish people. There is no Palestine. It's a lie. They are using Palestine just to kill the Jewish people. Just to hate the Jews. They teach me to 'purify al-Aqsa mosque from the filthy Jews'. Palestinians are liars."