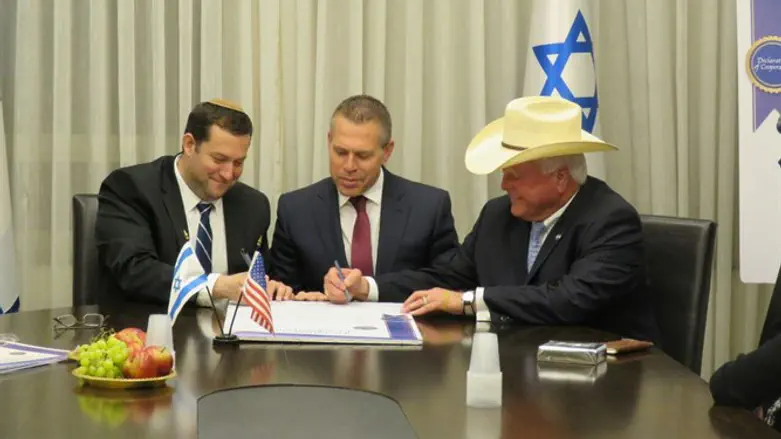 Miller, Erdan, and Dagan
Shomron Regional Council
A special cooperation agreement was signed between the State of Texas and the Samaria Regional Council in the Knesset last week, attended by Public Security Minister and Strategic Affairs Minister Gilad Erdan (Likud).
The agreement comes after six months of work by the Samaria Regional Council's Foreign Relations Unit and ripened during meetings with US officials and Texas Agriculture Commissioner Sid Miller during Samaria Regional Council head Yossi Dagan's visit to Washington DC for the inauguration of US President Donald Trump.
During his trip to Israel this week, Miller toured Samaria as a guest of the Samaria Regional Council.
The agreement was signed between Miller, who was one of the last candidates for the post of Secretary of Agriculture, and Dagan. It will include the exchange of technologies and expertise in agriculture and water technologies.
Yossi Dagan said: "This is a significant move that sends an unequivocal message to the parties promoting the boycott of Judea and Samaria and Israel that the countries of the world will not accept this boycott."
Minister Gilad Erdan said: The State of Israel and Texas share many common values, including the deep connection to the land and the importance of working and preserving it, and the potential for increasing economic cooperation between Israel and Texas is enormous."
"I thank the Texas government for its steadfast support for Israel and for promoting legislation against the BDS movement. I believe that legislation is an effective tool to combat the delegitimization campaign against Israel," Erdan added.
Sid Miller said: "We want to re-establish the relations between Texas and Israel, and especially with Samaria, which is such a significant part of the Land of Israel, we want to be partners of Israel and Samaria to recreate the brotherhood that was lost in recent years."