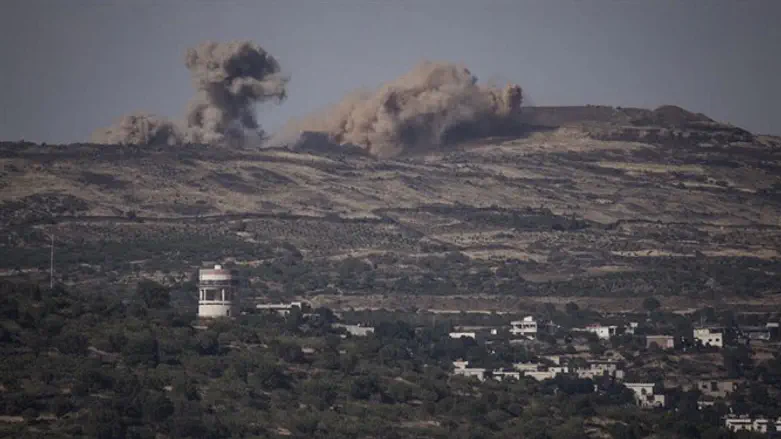 Israel-Syria border
Basel Aweidat/Flash 90
Syria on Friday sent two letters to the UN in which it said that Israel's airstrikes on the country violated international law, the UN Charter, and "the sovereignty and the sanctity of Syrian territory," the Syrian news agency SANA reported.
In letters sent to the UN Secretary General and the President of the Security Council, the Syrian Foreign Ministry said that "in flagrant defiance of the international legitimacy and UN resolutions and the sovereignty and the inviolability of the Syrian territory," four Israeli warplanes violated Syrian airspace and targeted a military site in the eastern countryside of Homs province.
"As part of its right to defend the sanctity of its territory, the Syrian air defense responded to this aggression and shot down one of the planes while the rest of them were forced to flee," the Ministry wrote, according to SANA.
"The Israeli aggression this morning comes as a new Israeli attempt to boost the collapsed morale of terrorist groups after they were defeated recently by the Syrian Arab Army and its allies in many areas," the Ministry said in the letters.
"Syria calls on the UN Secretary General and the President of the UNSC to condemn this blatant Israeli aggression, to force Israel to stop supporting terrorism in Syria, to implement all UNSC resolutions on counter-terrorism, including resolution No. 2253, to withdraw from the whole occupied Syrian Golan to the line of June 4th, 1967, and to implement resolution No. 497 for 1981," it wrote.
Syria launched several anti-aircraft missiles towards the Israeli aircraft that carried out Thursday night's airstrike.
One missile was intercepted by Israel's Arrow air defense system, one of the first times the system has been used.
While Syria claimed that it shot down one of the Israeli aircraft, the IDF denied that any planes had been struck and stressed that Israeli troops and citizens had not been in danger at any point during the incident.
Prime Minister Binyamin Netanyahu said on Friday that Israel would continue to act to prevent the transfer of weapons to Hezbollah.
"Our policy is very consistent: when we identify attempts to transfer advanced weapons to Hezbollah, and we have the intelligence and operational feasibility - we work to prevent this," the Prime Minister said.
"That's how it's been and that's how it will be, we have determination, and the proof is that we are acting, and everyone has to take this into account," he added.
The Syrian Foreign Ministry's complaint to the UN was filed after the Syrian army reacted angrily to the Israeli airstrike on Friday and threatened to respond harshly.
"This flagrant attack is part of the Zionist enemy's persistent efforts to support the terrorist gangs of ISIS," the army said, adding, "It will be responded to directly with all possible means."
(Arutz Sheva's North American desk is keeping you updated until the start of Shabbat in New York. The time posted automatically on all Arutz Sheva articles, however, is Israeli time.)