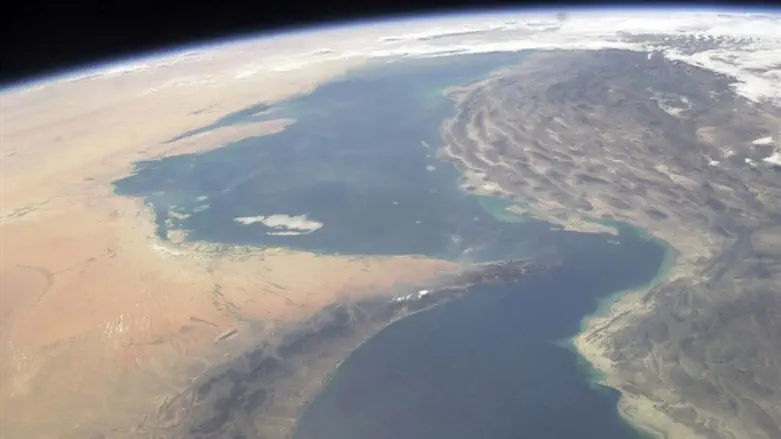 Strait of Hormuz
Thinkstock
Iranian military vessels had a close encounter with a U.S. surveillance ship in what U.S. officials on Monday told CBS News was both an "unsafe" and "unprofessional" maneuver by the Iranians in the strategic Strait of Hormuz.
The encounter took place on Saturday, according to the report. It involved the USNS Invincible, which is outfitted with sonar to track submarines and radar to monitor missile tests. The ship was transiting the Strait of Hormuz when it was forced to change its course to avoid a small group of Iranian Revolutionary Guard fast boats that had positioned themselves in front of it.
The "unsafe" encounter came just two days after an Iranian navy frigate came within 150 yards of the Invincible in the Gulf of Oman, just south of the Strait of Hormuz, according to CBS News. The gulf separates Oman from southeastern Iran.
The earlier encounter was deemed "unprofessional" but not unsafe because the frigate maintained a parallel course with the Invincible at the point of closest approach. The Saturday incident was also more worrying as it involved the elite Revolutionary Guard unit.
Tensions between the United States and Iran in the Gulf are ongoing. In January, a U.S. Navy ship fired warning shots at Iranian boats near the Strait of Hormuz, after five Iranian vessels approached the USS Mahan and two other American ships that were entering the strait.
In September, the U.S. Navy said that Iran had threatened two American maritime patrol aircraft flying over the Strait of Hormuz.
A week prior to that incident, a U.S. Navy patrol ship was forced to change course after a fast attack craft from Iran's Islamic Revolutionary Guard Corps came within 91 meters of it in the central Persian Gulf.
Iran has escalated its rhetoric against the United States, after the Trump administration imposed new sanctions on the Islamic Republic in response to a ballistic missile test it conducted in violation of UN Resolution 2231.
Iran has responded angrily to the sanctions, with the country's Supreme Leader, Ayatollah Ali Khamenei, dismissing calls from the Trump administration to cease the country's ballistic missile tests.
In addition, Iranian officials have warned the United States against attacking Iran, with one senior official recently threatening his country would attack Tel Aviv if the United States "makes a mistake".