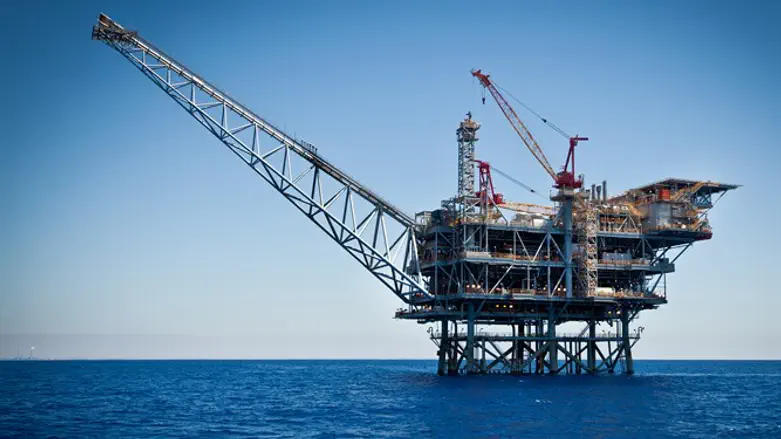 Israel's Tamar gas rig
Moshe Shai/Flash 90
A Cyprus peace deal would speed up Israel's project to provide gas to Turkey, the new Israeli ambassador to Ankara said Wednesday.
Eitan Naeh became Israel's first ambassador in Turkey in December when relations resumed in the summer after a six-year diplomatic rift.
"We think that the solution to the Cyprus problem can speed up the energy project," Naeh said, adding it was a "win-win" for everyone.
"A Cyprus solution will make life easier for all," he told reporters during a briefing in Ankara.
Naeh was referring to exporting gas from the Leviathan field off its coast, discovered in 2010 and set to begin production in 2019.
The best way for gas to be exported between Turkey and Israel would be a pipeline via the territorial waters of Cyprus.
However, there have been growing tensions over the Cyprus deal after reunification talks were called off last week.
The recent UN-backed negotiations on ending Cyprus' decades-old division have been seen by many as the best chance for a settlement since Greek Cypriots rejected a UN reunification plan in 2004.
The island has been divided since Turkish troops invaded its northern third in 1974 in response to an Athens-inspired coup seeking union with Greece.
An Israeli official said Israel hoped to export gas to Turkey by 2021 as part of a three-pronged project for Leviathan gas to be sold abroad.
The first country to receive gas would be neighboring Jordan after it signed a contract to buy gas from the field in September.
The official said it was then hoped the east Mediterranean pipeline would be completed for gas to be directly sent to Europe.
Israeli Energy Minister Yuval Steinitz said late last year one of his plans was for "the longest marine pipeline in the world" to run from Israel through Cyprus and Greece to Italy and into the European infrastructure.
Despite initial concerns it would be technically impossible and economically unviable, technology and prices have made it feasible.
The official added Israel hoped to sign an agreement with Ankara by this summer for gas to be exported to Turkey.
Naeh also said "bilateral trade can and should be doubled in the next few years to $8 billion from $4 billion" between Turkey and Israel.
In December 2016, Israel's Leviathan partners signed an agreement in which Or Energies will buy 8.8 billion cubic meters of gas over the next 20 years.
Earlier in 2016, Israel and Turkey agreed to begin discussing a deal that would include building a gas pipeline from the Leviathan site to Europe. The first sale to a power plant, this one in southern Israel, was signed in May 2016.