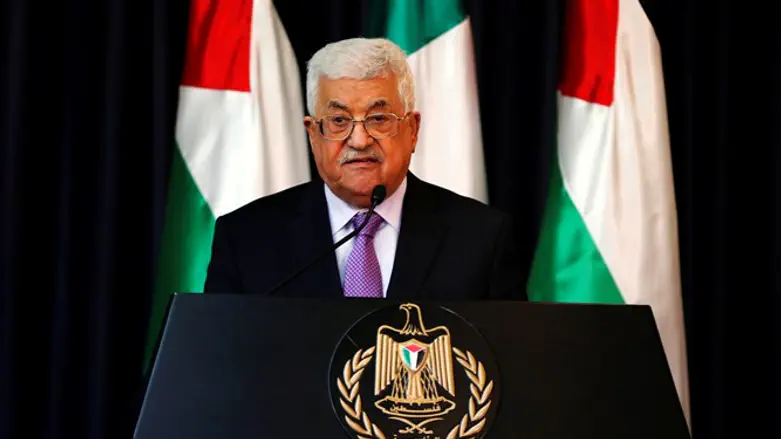 Mahmoud Abbas
Reuters
Palestinian Authority Chairman Mahmoud Abbas called on the nations of the world to recognize a Palestinian Arab state in Judea and Samaria in order to "save the two-state solution" during the first day of the 34th session of the UN Human Rights Council in Geneva.
"We call on countries that have recognized Israel and believe in the two-state solution to defend and support this solution by recognizing the State of Palestine."
Abbas' plea came after US President Donald Trump signaled that the two-sate solution was not the only method for achieving peace between Israel and its Arab neighbors.
"I'm looking at two-state and one-state, and I like the one that both parties like," Trump said in an interview with Reuters over the weekend. "I'm very happy with the one that both parties like. I can live with either one."
"Palestine will remain the greatest test for this Council, and its success in defending human rights in Palestine will determine the sustainability of human rights across the world. We must not fail this test," Abbas insisted.
In a warning to President Trump not to take pro-Israel steps, such as moving the US embassy to Jerusalem, Abbas said: "We warn concerned parties not to take steps that contribute to strengthening the Israeli occupation of the State of Palestine. This includes the support to the Israeli settlement enterprise, attacks against holy places, or moving embassies to Jerusalem."
Israeli Ambassador to the UN Danny Danon criticized Abbas' speech as "hypocrisy."
"In the peak of hypocrisy, Abbas and the Human Rights Council have joined together in a campaign of incitement against Israel. It is no surprise that this Council, which has long been divorced from reality, has chosen once again to provide a platform for Palestinian smears against us," said Ambassador Danon.
"It is time that Abbas and the Palestinian leadership understand that a new era has dawned at the UN in which speeches and one-sided initiatives against Israel will not succeed. The only way forward is through direct negotiations with Israel," the ambassador concluded.