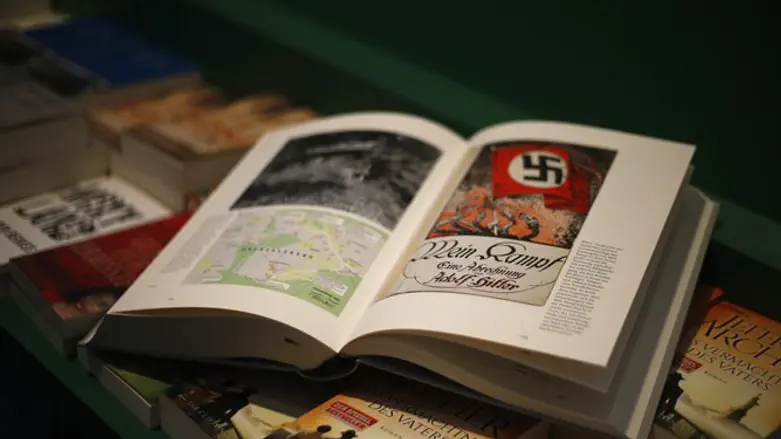 Mein Kampf
Reuters
The Yad Vashem Holocaust museum called on Amazon to stop selling books which promote Holocaust denial and to remove the offensive material from their website.
The British newspaper the Independent reported earlier this month that Amazon was selling the books "Did Six Million Really Die?""The Six Million: Fact or Fiction?," and "The Myth of the Extermination of the Jews" in the UK and the US.
Dr. Robert Rozett, the director of the libraries at Yad Vashem, wrote a personal appeal to the CEO of Amazon, Jeff Bezos, asking him to cease selling and promoting the books.
Dr. Rozett wrote: "It has been clear for many years now that Holocaust denial literature is freely available for purchase over Amazon. Many of the items appear with glowing readers' reviews and recommendations for further reading in the same vein," Rozett wrote, attaching to his message several examples of rave reviews of books titled "True History of the Holocaust. Did six million really die?" and "The Hoax of the Twentieth Century: The Case against the Presumed Extermination of European Jewry.""
He continued: "Once again, given the presence of anti-Semitism around the globe, which has become more prevalent in recent years, we strongly urge you to remove books that deny, distort and trivialize the Holocaust from your store."
"Holocaust denial and other forms of hate speech indisputably nurture prejudice and hate crimes," he warned. "Open discussion of ideas is certainly essential to pluralistic and democratic systems, but facilitating the spread of such hate-filled ideas is irresponsible, to say the least. As a major agent for the dissemination of ideas, it is incumbent upon Amazon, as it is also incumbent upon Internet providers in general, to act to curb the spread of hatred."