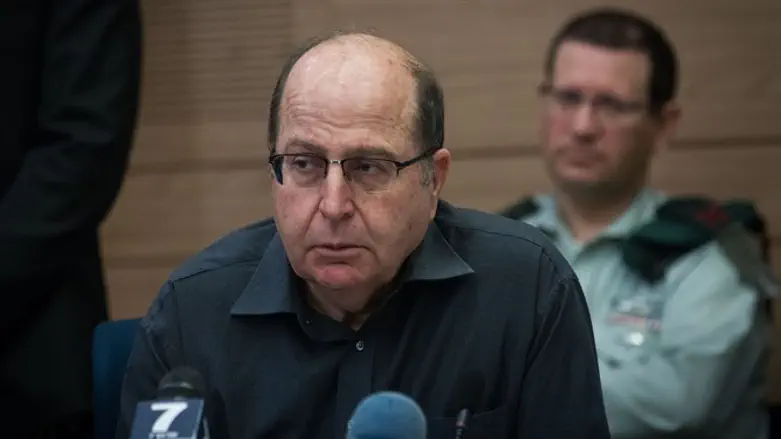 Moshe Ya'alon
Miriam Alster, Flash 90
Ariel University Professor and political and social-army sciences researcher Dr. Eyal Levin told Arutz Sheva that convicted IDF soldier Elor Azariya did not have a fair trial.
"The moment an entire system turns against a soldier, there's nothing that can help him," Levin said. "This trial began when Defense Minister Moshe Ya'alon (Likud) expressed his opinion on what the outcome of the trial should be. The Chief of Staff said how he thinks the case should be ruled - and the army judge could not have ruled against those opinions.
"There are a lot of things here which were not handled appropriately. The connection between an army trial and a regular trial is like the connection between an army band and music. When the Defense Minister decides what the outcome should be, and the Chief of Staff backs him up - the entire army is subject to the Chief of Staff's decisions. There's no way the trial will be fair.
"We could have had an internal trial, within Azariya's battalion, and his company commander would have been the judge, and he would have been judged like everyone else for an operational mistake in an internal trial. Instead we had a fake trial which needed to agree with the highest army commanders.
"Instead of a fair trial, we had a Defense Minister with a new, liberal political agenda, and he's making political use of Azariya's situation. Every liberal knows that in the 90s, there was the concept of confirmation of manslaughter. Chief of Staff Gadi Eizenkot was a security commander back then, and he helped kill dozens of terrorists - not all of them on the battlefield. We don't need to pull the concept of confirmation of manslaughter out of storage. Every soldier back then knew about it. And everyone knows about the 60s, and the wild goose chases, and how things did not always work according to protocol and plan - and they know that that's a good thing.
"I suspect the Defense Minister found himself in a corner politically and needed to find a new way to present himself. I think he remembered that he had joined Ze'ev Jabotinsky's Likud, even though Jabotinsky himself died decades ago.
"Ya'alon wanted to advance a specific political agenda, he wanted to show the world how liberal he is. I remember a few months ago, the Chief of Staff said, 'We're not going to empty a magazine for a little girl holding a pair of scissors,' but the truth is such a scenario has never happened - he said it to make a political point."
On January 4th, the court delivered a guilty verdict against the 21-year old IDF sergeant for killing Abdul Fatah al-Sharif. Al-Sharif had, just minutes before the shooting, been involved in a terrorist stabbing attack which left a soldier wounded. On Tuesday, the military court sentenced Azariya to 18 months in prison - not including the eleven he has already served waiting for the court ruling.