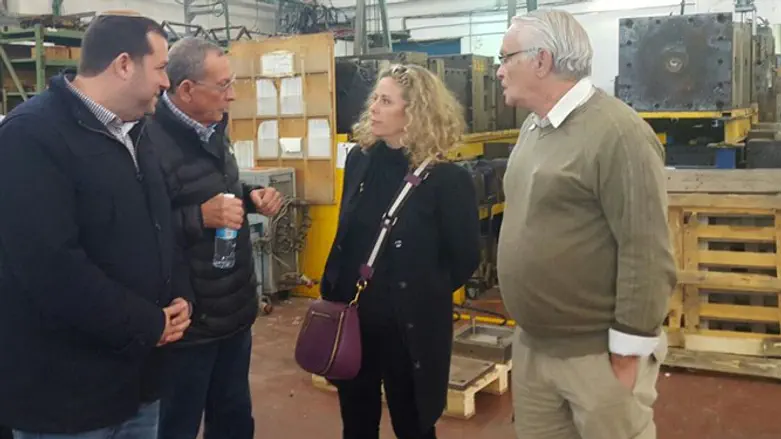 Nahmias-Verbin in Barkan industrial zone
Esther Allouche
MK Ayelet Nahmias-Verbin (Zionist Union) visited Samaria Sunday and met with Regional Council head Yossi Dagan, visited the Barkan industrial zone and ascended Mount Kabir where she took in the view of the region with Benny Katzover.
"I came to visit Samaria because there is a wonderful group of people here even if I disagree with their leadership on political issues. It's important to meet and exchange opinions," said Nahmias-Verbin.
After she observed Palestinians working gainfully in the Barkan industrial zone, Nahmias-Verbin said that "the boycott of products from this region is a difficult problem even for the Palestinian public despite the fact that these factories are a superb example of coexistence. The boycott must be combatted.
"I am absolutely opposed to boycotts and believe that economic initiatives are the most significant steps towards a future peace agreement. It's vital to speak about our disagreements. I asked and will continue to ask residents of Samaria and settlement leaders to stop the delegitimization of the Left, which harms the settlements. The Left, just like the Right, is not monolithic."
Nahmias-Verbin stressed that "despite our differences, I said clearly that its important to maintain settlement blocs and they will ensure Israel's existence as a Jewish democratic state for many years to come. "
Shomron Regional Council head Yossi Dagan said during the visit that "out biggest problem with Israeli society is their ignorance. One side does not know the other. In my perception it's important to unite the fractured sectors of the nation and know the other side. They need to be acquainted with our communities and we need to be acquainted with those who are less supportive of our communities. We see ourselves as students of the Labor party. The act of settlement is a pioneering initiative in our eyes.
"It's true that there is a political dispute which must be clarified between us, but first we need to be acquainted with one another, so I am very grateful to you for your visit and hope that many will follow in your footsteps. We spoke about the importance of bringing youth from our communities to meet youth who think otherwise and I am very happy that together we can forge such an enterprise," he added.