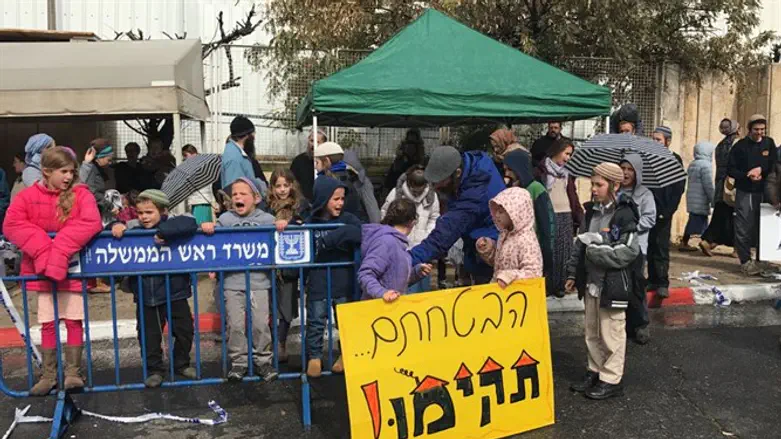 Amona residents protest near government offices
Hezki Ezra
Responding to reports that Israeli Prime Minister Binyamin Netayahu has reneged on his promise to build Amona expellees a new town, the expellees and their supporters will hold a protest at 9am on Sunday morning outside the Israeli government's offices in Jerusalem.
"Erasing the town of Amona and destroying our homes, where we lived for twenty years, is a hard blow for us," Amona expellees said. "But it's also a hard blow for Zionism and the Israeli public, which supports this government.
"Creating a new town to 'replace' Amona is the minimum this government can and should do. It will bring relief for us personally, for Zionism, and for the long road ahead. This is proof that we have beaten our enemies. Our enemies wish to see many more Jewish towns fall. They wish to see the State of Israel erased from the map.
"We are here in Judea and Samaria, and in all of Israel, in order to win and to stay here. All of the ministers understand this. The Prime Minister understands this.
"It's time we did something, and created a new town which will take the place of Amona. We will not leave here, and we will not leave the dormitory in which we are staying, despite the difficult conditions, unless we are going to one place: to build a new town like we were promised.
"We will tell this again, clearly, to the Israeli government. We call upon the Israeli public to stand beside us," they concluded.
Amona was destroyed at the beginning of February. The Israeli government promised Amona's residents that if they did not stay on the same hilltop, the government would build them a new town.