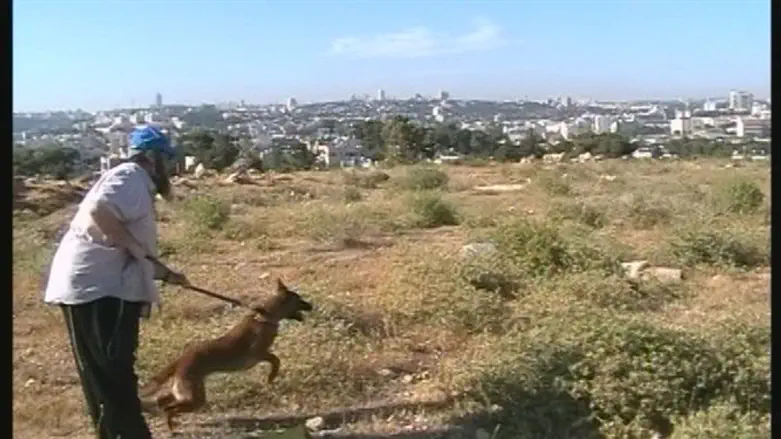 IDU's Dogs at Hershkowitz Property
Israel Dog Unit
With more and more European governments calling to boycott Israeli products manufactured in Jewish towns in Judea and Samaria, and as the BDS Movement continues to intensify their efforts against Israel in Europe as well as on U.S. campuses, Samaria Mayor Yossi Dagan has again succeeded in proving that with a bit of work and creativity, strategic alliances can be forged between Europeans and security and humanitarian projects in Judea and Samaria.
A delegation of world-renowned dog experts from Holland and Belgium were hosted by the Israel Dog Unit (I.D.U.), Israel's largest civilian Dog Unit, in Kfar Tapuach's kennels for ten days, aiding in the placement of security dogs as well as assisting in searches in unsolved cases of missing people in Israel. Kfar Tapuach is an Israeli community in Samaria.
Paul, of the Belgian Fire Dept., and Bob, with 36 years experience as an officer in the Belgian army dog unit are true friends of Israel and have made themselves available to help save lives in Israel, whenever they have been called in to assist. Yekutiel Ben Yaakov, Commander of the Israel Dog Unit, said, "it is hard to find experts of this caliber in Israel. Their assistance is priceless and has helped us secure and save countless lives in Israel."
Yossi Dagan, head of the Shomron Regional Council, offered his blessings to the Belgian experts, thanking them for aiding in the defense of men, women, and children in towns across Judea and Samaria as well as for their noble humanitarian contribution to searching and rescuing missing people in Israel.
The Belgians also joined the Israel Dog Unit in a special exhibition before high-ranking officers in the Haifa police station, showing the police some of the new search and cadaver dogs recently imported to Israel from Europe.
The Israel Dog Unit has received recent awards from the Haifa police for finding many missing people in the coastal city.