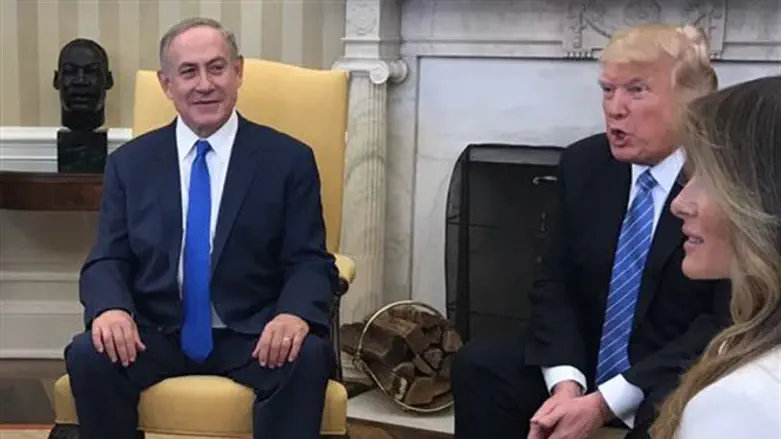 Trump and Netanyahu
Hezki Baruch
The White House has summarized yesterday's meeting between US President Donald Trump and PM Netanyahu.
In an official statement, the White House said that the two "agreed to strengthen special connection between Israel and the US."
A senior White House official noted that, during the meeting between the two, Trump emphasized the US' unwavering commitment to the security of Israel. He said that the two talked at length about the need to address Iranian threats, in addition to joint efforts against ISIS and other radical Islamic terror groups.
The official added that "the two leaders said that the Iran deal was a mistake for the US, Israel, and the whole world. The President promised the PM that he would prevent Iran from obtaining nuclear weapons."
"The two leaders committed to strengthening cooperation to bring peace and stability to the Middle East in order to protect the US, Israel, and other countries from the threat of global terror."
It was also noted that Trump's desire to advance peace between Israel and the Palestinians came up in the meeting. Sources close to Trump emphasized the need for direct negotiations between the parties, with the US acting as mediator.
The senior official said "the two leaders talked about settlement building in Israel," and agreed to continue with those talks in order to consolidate an approach in line with the goal of advancing peace and security.
Of mention is the fact that, just as Netanyahu's briefing following the meeting made no mention of "two states," so Trump's representatives made no such mention following the meeting.
In the meeting, it was agreed upon that the two sides would form joint groups whose goal is to bring about "dramatic improvement" in the relations of the countries in the fields of security, trade, and technology.
"This is a new day for US-Israel relations, that have been defined anew by joint cooperation in challenges and opportunities that the two countries will address together," the White House summarized.