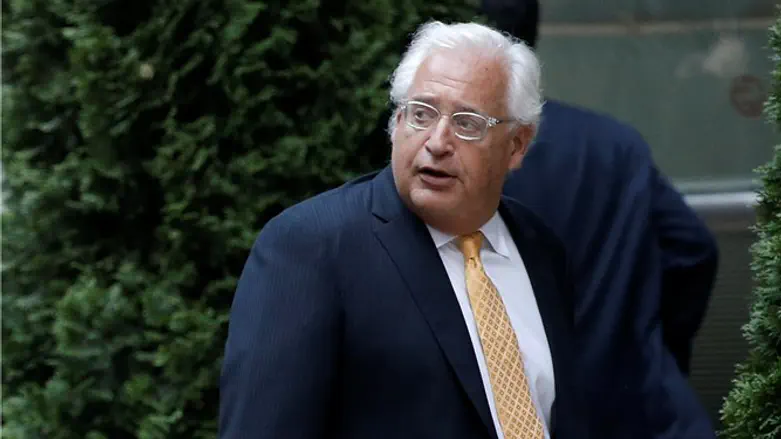 Ambassador David Friedman
Reuters
J Street has begun a campaign to have the US Senate reject the nomination of David Friedman as the next U.S. Ambassador to Israel.
The Senate is scheduled to hold a hearing on Friedman's appointment by U.S. President Donald Trump this coming Thursday. As J Street says in its anti-Friedman campaign, "Friedman is a friend of the settlement movement who backs unlimited settlement expansion" in Judea and Samaria.
J Street, which states that it is a pro-Israel organization, has circulated a sample letter among its members that it recommends be sent to their Senators. The members are asked to "strongly urge" their Senators to "reject Donald Trump's choice to be the next US Ambassador to Israel, David Friedman."
J Street states that Mr. Friedman is "hostile" to the two-state solution, which it terms the "only way to ensure Israel's future as the democratic homeland of the Jewish people."
In fact, however, many politicians and thinkers on both sides of the Israeli spectrum have declared the two-state plan unworkable. Author A. B. Yehoshua, considered an "intellectual giant" of Israel's left-wing, recently said, "I have believed in dividing the land for 50 years, and now I see that it cannot happen. 450,000 Jews in Area A [Judea and Samaria] can simply not be uprooted. Can Jerusalem ever be divided, realistically? We have to start thinking differently."
J Street further accused Friedman of being a "friend of the settlement movement," and even of having "made the case for Israel's annexation of the West Bank." Being a "friend of the settlement movement" is apparently a crime in J Street's book.
Friedman supports the move of the U.S. embassy from Tel Aviv to Israel's capital, Jerusalem, and has said that he looks forward to working for peace in the Middle East "from the US embassy in Israel's eternal capital, Jerusalem" – even before an official relocation of the embassy takes place.
J Street explains that it does not support BDS unconditionally, but does not oppose initiatives to boycott, divest from, or impose sanctions on Israel if these aid the progress towards a two-state solution, recognize Israel's right to exist, and focus only on "occupied territory" beyond the Green Line.