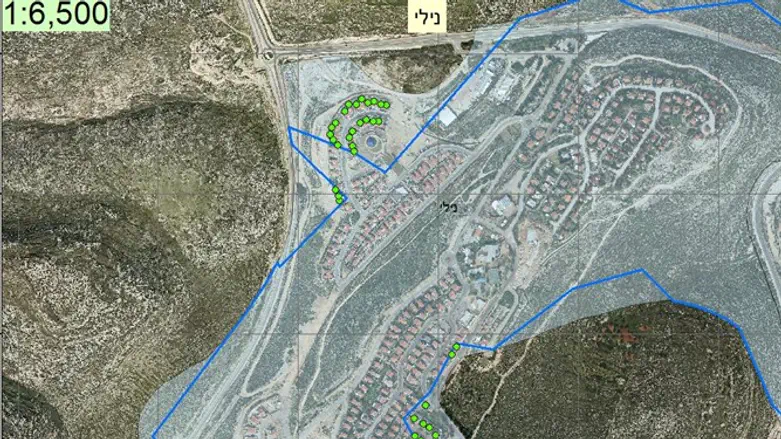 Nili
Regavim
With challenges to the recently passed law already being presented, the right-wing response to one planned appeal by leftist organizations to the Supreme Court to strike down the Regulation Law was not long in coming.
A family from the town of Nili filed a civil damages suit against the Civil Administration for one million shekels ($270,000). Several months ago the family was shocked to discover that the house which they had legally constructed was declared illegal overnight.
The couple had moved from Tel Aviv to Nili, an upper-middle class, secular town in the Binyamin region of Samaria. In 2013 they were given the rights to use a lot located within the boundaries of the town and constructed a house at a cost of 2 million shekels ($540,000).
But in March 2015, the Civil Administration used the "Blue Line" procedure on Nili, in which old maps demarcating state land in Judea and Samaria are redrawn with the precision of modern computers. The step was taken without prior notice and without contacting the families affected, and left the street on which the family's house had been legally constructed outside the boundaries of the state land, retroactively making the house illegal.
The value of the house dropped accordingly.
The family's attorney, Dr. Harel Arnon, emphasized in the suit that the Supreme Court has stated clearly in a number of prior judgments that the director of the state land administration in Judea and Samaria is liable and must take special precautions for the public regarding the allocation of land.
The suit could also have repercussions for the fate of the Regulation Law, which was passed by the Knesset this week.
The Regulation Law would allow homes allegedly constructed on private Arab land to remain and the owner to be compensated with either another plot of land or monetary compensation equalling 125% of the land's value.
Should the Supreme Court strike down the Regulation Law, the Regavim legal organization has threatened that the thousands of Israeli citizens who stand to lose their homes would bring lawsuits similar to the suit of the family from Nili against the state.
"In recent years, legal advisers and officials of the Civil Administration, have been removing land and houses in settlements which were established decades ago [from their original places within the boundaries of state lands]," Regavim said in a statement. "These measures have severely harmed the communities and the basic human rights [of the residents] and have caused tremendous economic damage to thousands of families, who built their houses legally, and which became illegal overnight. The Regulation Law provides a logical and moral [answer], and is necessary for all those home-owners and landowners."
"It is simple math. If the Regulation Law is overturned because of leftist organizations, then the state will have to pay billions of shekels in compensation to all of those who have been harmed by the egregious move of the Civil Administration."