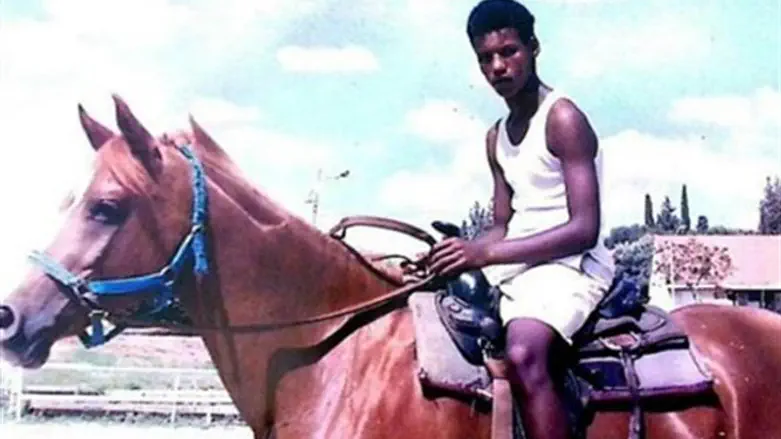 Avraham Mengistu
Family Album
Hamas refused an Israeli offer to swap Avraham (Avera) Mengistu for a Hamas official held by Israel, said a report by Reshet Bet. The offer was humanitarian, since both captives suffer from psychological issues.
Mengistu, then 29, accidentally wandered into Gaza in September 2014.
A Hamas official explained the organization refused the offer because they want "all or nothing." The official also said no other progress has been made on the subject of prisoner swaps.
Speaking with a Reshet Bet reporter, the official said Hamas would be "very happy" if Egypt offered to broker a deal, but the topic is not under discussion at this point. He also said during recent discussions with Egyptian intelligence that Cairo did not seem willing to involve itself in the proceedings, and estimated the situation will not change in the near future.
The official went on to say Egypt insists Hamas extradite ten wanted suspects, some of them from Gaza and some from Egypt. However, he said "some of the prisoners are not in Gaza and never were, and none of them are Hamas officials."
He also responded to Egypt's criticism of Hamas for helping Gazans who want to join ISIS in Sinai, and for aiding ISIS members who escaped from Sinai to Gaza. According to the Hamas official, the terror organization does not aid anyone working to cause security issues in Sinai, and sees ISIS as an enemy.
The official also claimed Hamas is working to fight ISIS within Gaza, denied ISIS' power in Sinai, and said Hamas does not need the Islamic State's help smuggling weapons.
The official emphasized relations between Hamas and Egypt have significantly improved, and that Hamas' recent visit to Cairo - headed by a high-ranking official freed in the "Shalit deal" - was meant to further improve relations. He denied reports that Hamas received information about the four Hamas terrorists who disappeared in the Sinai desert during the summer of 2015.