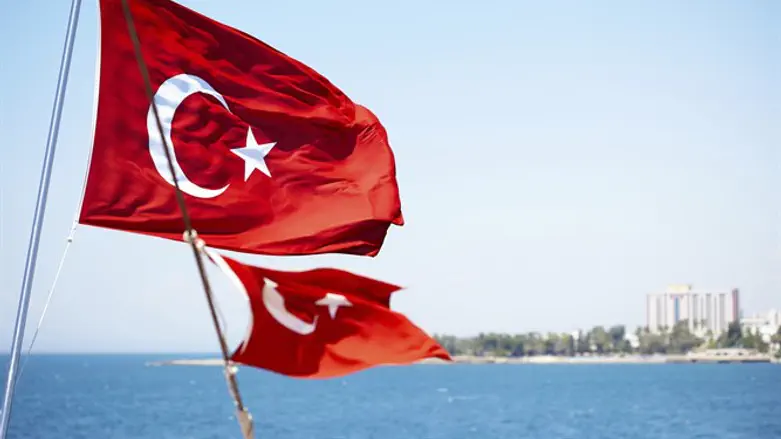 Turkish flag
Thinkstock
A high-ranking Turkish delegation will arrive in Israel on Sunday, for the first time since a reconciliation deal between the two countries was signed last June, Kol Yisrael radio reports.
According to the report, the delegation will hold meetings with senior representatives from the Ministry of Energy, as well as with representatives of the Delek and Noble Energy companies.
The delegation will be headed by the Director-General of the Turkish Energy Ministry and the sides will continue the discussions on a gas pipeline between Turkey and Israel.
The delegation also will visit Gaza and examine ways to ease the power shortage there, according to Kol Yisrael.
Israel and Turkey signed a reconciliation agreement this past June, six years after their relations deteriorated after the 2010 Mavi Marmara incident.
In that incident, IDF soldiers boarded the Marmara after the Islamists on board, who claimed they were carrying humanitarian aid for Gaza, refused to reverse course and dock at the Ashdod Port.
Upon boarding the ship, the soldiers were attacked by the Islamists with clubs and knives, forcing the troops to open fire and killing 10 of the activists on board.
Under the reconciliation deal, Israel paid Turkey $20 million in compensation for the deaths of the 10 pro-Hamas Turkish assailants.
The agreement also provides for normalization of relations, the removal of sanctions the countries have imposed on one another, an increase in the level of diplomatic relations and an exchange of ambassadors.
Last week, the Director-General of the Israeli Foreign Ministry, Yuval Rotem, travelled to Turkey where he held a diplomatic dialogue with local officials, for the first time in over six years.
The purpose of Rotem's visit to Turkey was to deepen the relations between the two countries in a way that will help to further develop them, primarily on the political and economic fronts.