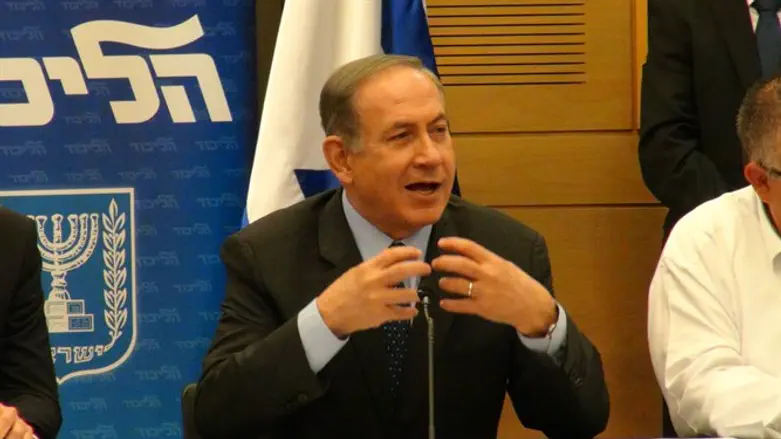 PM Netanyahu
Hezki Baruch
Prime Minister Binyamin Netanyahu criticized the Israeli media Monday afternoon for attacking him over a tweet posted on his Twitter account praising US President Donald Trump's plan to build a wall along the US-Mexico border.
"President Trump praised the fence which was built under my guidance on our border with Egypt. He said it almost completely stopped illegal infiltration into Israel. And I said in response that he was right. And in response he retweeted the things I said. The media commentators have blown it out of proportion," the Prime Minister said.
He accused the media of hypocrisy. "These same commentators said earlier that I had to relinquish Israel's security assets for the sake maintaining a good relationship when the previous president was in the White House. And now they say that I have hurt Mexico, and ruined our relationship with them."
"Who spoke about Mexico? We had a good relationship with them, and we will continue [to have a good relationship with Mexico]. Even when we have a real debate with them, and not an imaginary one, like their vote at UNESCO." Netanyahu said. "But the media are focusing now on this in order to divert attention away from the main point, and that is the tremendous success of the fence we built in the south, which curbed illegal infiltration. It was a complete success, and the President knows it."
Netanyahu claimed that the media was pressuring the Attorney General to file an indictment against him. "It does not surprise me. The leftist media is on a Bolshevik witch-hunt and is engaged in brainwashing and character assassination against my family and myself. It happens every day, night after night. They create a flood of fake news against us."
"They exert constant pressure on the Attorney General and law enforcement to submit an indictment against me at any price. There has never been anything like this in the history of the country. There has been hardly anything like this in the history of democratic states. And why do they do it? Because since the establishment of the State of Israel, the left has dominated the media and other nondemocratic centers of power."
"And I'm the first Prime Minister from the right wing to try to change this, who dared to try to change it. And so they do everything they can do to get rid of me and thereby perpetuate the continued leftist control of the centers of power, in opposition to the will of the voters, who are mostly right-wing. It will not help them. They will not succeed." Netanyahu declared.