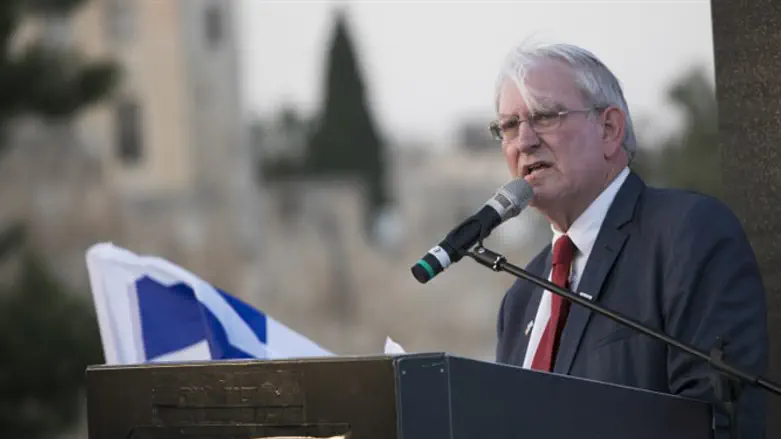 Marc Zell
Yonatan Sindel/Flash 90
Marc Zell, the co-chair of Republicans Overseas in Israel, explained Saturday that recent foot-dragging by President Donald Trump's White House on moving the U.S. embassy from Tel Aviv to Jerusalem is happening at Israel's request.
Speaking to Haaretz and citing both Israeli and U.S. sources, Zell said that "Trump has been unequivocally in favor of moving the embassy and remains so" but "he is proceeding cautiously because of concerns raised by Israeli officials."
At the same time, Zell expressed confidence that the embassy move would eventually happen.
"Trump has repeatedly stated that his Administration will respect the wishes of the Israeli government and people on issues concerning the Land of Israel in general and Jerusalem in particular," Zell told Haaretz.
"There is no better evidence of this than Washington's historic non-reaction last week to Israel's announcement that it will be constructing 2500 housing units in Judea and Samaria…I believe Israel will give the green light to the embassy move and when it does, the embassy will come to Jerusalem," he added.
Moving the American embassy from Tel Aviv to Jerusalem and thus recognizing Jerusalem as Israel's capital was a central campaign promise of Trump's.
Despite the campaign promises, however, things seem to have stalled with regard to the move. This week, White House Press Secretary Sean Spicer told reporters that no decision has been made yet on the subject.
The planned move of the embassy has angered the Palestinian Authority (PA), whose officials want eastern Jerusalem to be the capital of a Palestinian state.
Last week, a coalition of PA organizations including Hamas, Fatah, and the Islamic Jihad, issued a statement warning against the embassy move, saying it would "ignite a fire in the region".
PA chairman Mahmoud Abbas recently promised a "political and diplomatic response" if Trump moves the embassy to Jerusalem. He did not elaborate.
Previously, Abbas wrote Trump a letter in which he warnedhim against moving the American embassy, saying that such a move would be crossing a "red line" and could jeopardize peace prospects.
Meanwhile, PA officials claimed this week that Trump had told the PA he would not move the embassy to Jerusalem and that all plans to do so had been frozen.
Trump himself would not discuss the subject in an interview on Fox News on Thursday night, saying that "I don't want to talk about it yet. It's too early."