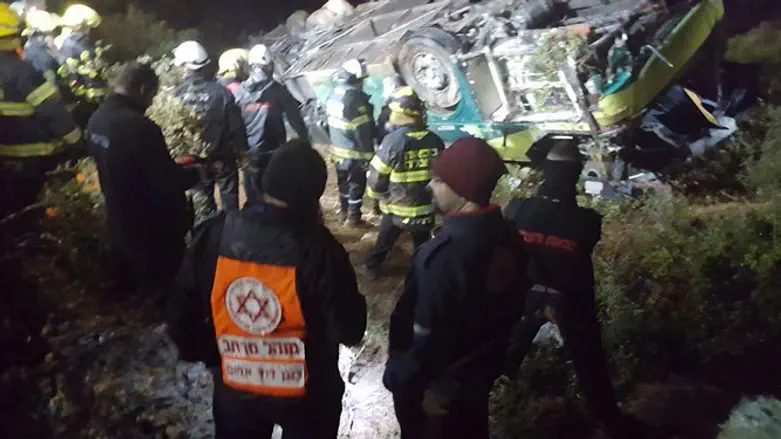 Scene of deadly bus accident
Courtesy of MDA
The identity of the second victim of Thursday's deadly bus accident in Samaria was released to the public Friday afternoon, hours after Avishai Kroani was named as a victim.
Ofir Rahmanov, a 23-year old resident of the Ramot neighborhood in Jerusalem, was killed late Thursday night, when the Egged 462 line bus he was travelling on from Jerusalem to Ariel overturned and fell off a cliff.
The other fatality was the 37-year old bus driver, Kroani, a resident of Ariel. He is survived by his wife, Idit, and their five children.
Seven passengers were injured in the accident.
Victims of the accident were evacuated to the Beilinson Hospital in Petah Tikva, the Sheba Hospital at Tel Hashomer and the Shaarei Tzedek Hospital in Jerusalem.
Of the seven, three are listed in serious condition, another three in moderate condition, and one in light-to-moderate condition.
The accident occurred off of Route 60, on the Maaleh Levona access road. After overturning, the bus slid off the edge of the road and down a cliff, falling some 1,000 feet (305 meters).
credit: מד"א
credit: מד"א
credit: אריק אבולוף/יחל״צ מגילות
credit: אריק אבולוף/יחל״צ מגילות
צילום: משה מזרחי, פלאש 90