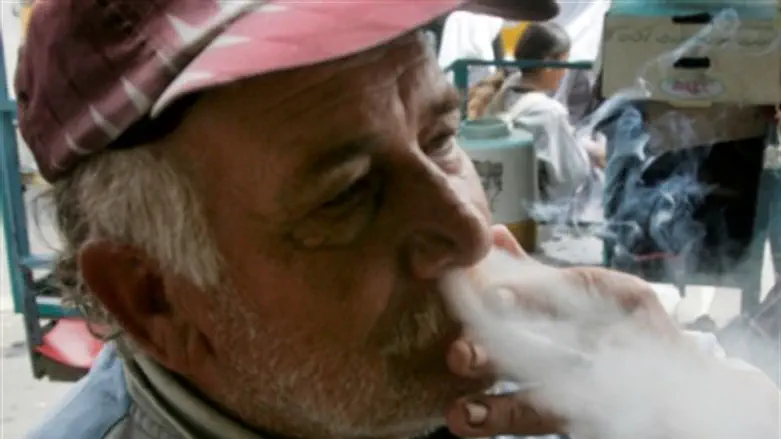 Smoking -- keep your distance
Flash 90
Director of Public Health Services Prof. Itamar Grotto submitted to the Knesset on Wednesday a list of proposed steps intended to reduce the number of Israeli citizens suffering from second-hand smoking.
"Israel once had the best smoking laws, but we've fallen behind. The Health Ministry intends to fix this, and we have already drafted several law proposals," Grotto said.
Israel has anti-smoking laws and smoking is forbidden in many public areas, but the laws are not always enforced. In practice, if a given municipality chooses not to enforce the laws, it is up to the private citizen to call the police - and often, by the time the police arrive, the smoker has already left the area.
Grotto continued, "These proposals and initiatives are things which the Health Ministry intends to advance, such as raising the tax on electronic cigarettes to match that of regular cigarettes, limiting tobacco advertisements in all media, enlarging the areas in which smoking is forbidden, and others.
"We want to forbid smoking in public areas such as open stadiums, and enlarge the no-smoking radius around preschools and playgrounds. Regarding smoking with children in the car - this is something we are working on, because its' much harder to enforce. Maybe it can be added into the Transportation Ministry's laws, there are disagreements on it.
"It will also be forbidden to smoke in zoos and at open-air shows, and we want to close smoking areas in places like restaurants and the Knesset."
Grotto also said these laws can be advanced quickly and without going through the usual legislative process.
Even though smoking was on the decline in 2016, nearly 40% of Israelis are smokers by the time they finish their mandatory IDF service.