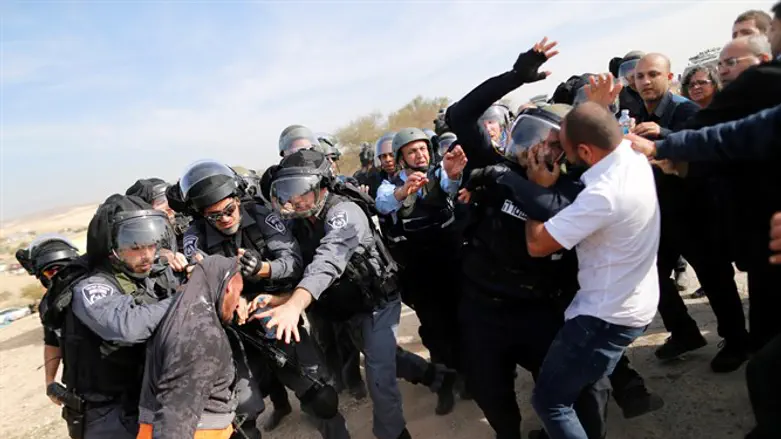 Clashes in the Negev
Reuters
A guest speaker at an Israeli college in the Negev provoked an angry backlash after he praised rioters who attacked Israeli police following a deadly terror attack in an illegal Bedouin settlement.
The head of the Department of Education in the Bedouin town of Hura, Yusuf Al-Atawneh, spoke at Sapir College in Sderot, touching upon the riots which broke out at Umm al-Hiran yesterday following the terror attack which left 34-year old Erez Levy dead. The terrorist was an Israeli Arab employed by the Education Ministry.
According to a report by Channel 2, Al-Atawneh refused to condemn either the riots or the ramming attack killed officer Levy.
Many students were outraged at the invitation of the speaker, writing to the college administration: "Instead of supporting our people, you help our enemies. This is a college of leftists."
A number of students left the lecture hall in protest. "The session was supposed to be about the issue of education in the outlying areas of the country." a third year student at Sapir College said. "At one point the Director of Education [in Hura] rose, and instead of speaking about education, he started talking about the incident yesterday. He supported the Bedouin's version of events and claimed that there was a police whitewash. It offended our sensibilities."
"I did not come to this college to hear someone speak against my country in this way," said the student. "It's just a shame that the college brought him - he used this platform to preach and incite against the state. This college is a college of extreme leftists who are trying to impose their views on students and to brainwash us."
Sapir College released a statement expressing regret for the incident. "Regretfully, during sessions that dealt with education, in the Department of Management and Public Policy at Sapir College, an educator gave a speech about the political events of recent days, which are unfortunate events, instead of dealing with the content [of the session]. His comments provoked strong reactions from the audience and the discussion was discontinued in order to calm the situation."
The college added: "It should be noted that the conference was planned many months ago, including the scheduling of speakers, and that the stated comments do not at all reflect the positions of Sapir College. We regret the incident. Immediately after the situation calmed down we held a discussion which included all opinions on this issue."